By: Stephanie Porfiris, June 26 2020
---
In this IBM Spotlight, experts weigh in on steps leaders can take to become a transformational CIO, securing this role a new seat at the table.
On March 23, 2020, Canadians received news that, within 48 hours, they would be working from home for two weeks.
Two weeks became four, and four became eight.
Eight became indefinite and, all the while, a quiet class of leaders worked tirelessly to pick up the pieces.
When the world changed overnight, Chief Information Officers (CIOs) experienced a tectonic shift in demand, risk, and opportunity. In businesses big and small, countless rose to the challenge.
Elevate partnered with tech titan IBM to bring together a group of leading experts for a discussion led by Mark Dymond, Partner, Cloud Application Services, IBM and Michael Krigsman, columnist, industry analyst and founder of CXO Talk.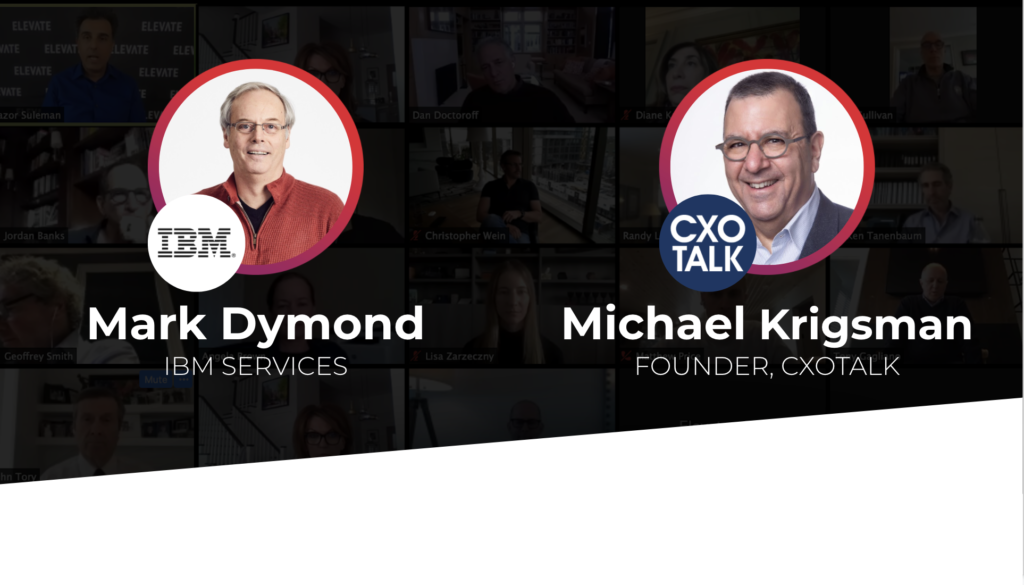 Joined by leading CIOs from top organizations, the group discussed what it means to be a CIO in a post-COVID world, why this moment is a golden opportunity to demonstrate their value, and how those who fail to innovate will be reduced to a passive service provider.
The stakes are high – so how can CIOs ensure they fall on the right side of history?
Along with tips in the discussion below, Mark and his team share some practical lessons for organizations to modernize their existing solutions and support modern data and AI-driven business models on hybrid cloud, enabling greater flexibility, agility, and innovation in the post-COVID-19 era.
Tip #1: Don't Lose Momentum
It's not just CIOs that are encountering a fork in the road. Companies, at every level of the organization, face a pivotal moment in their corporate history.
In Michael's mind, the key to capitalizing on the opportunity, and leaving risk safely in the rearview mirror, is momentum. If you are an organization that has already established some, it's vital to continue down that path.
For some industries, such as retail, hospitality, and live events, there has been such monumental decimation of their static state that they will experience either tremendous innovation or a natural culling.
In other industries, however, where survival is less dependent on an ability to adapt rapidly, there's a higher risk of backsliding into the old ways.
"The risk is to simply be complacent and fall back," explains Michael. "The tendency is to hunker down and do what we've always done. But if there are energy and vision to do things that are different, that's what's going to happen."
If you have yet to spin the flywheel, do it today. Tomorrow you'll be wishing it was already in motion.
Remember How Fast You Moved
Crises have a way of proving our mettle, and many companies will emerge from this with a strong sense of what they're capable of when it comes down to brass tacks.
"We have this strategic ability to push our companies along to where they probably should have been three to four years ago," observes Lara Skripitsky, VP and CTO, McDonald's. "But now we've got permission from a pandemic, ironically, to move faster than ever before."
Feeling like companies have 'permission' to move quickly has revealed the real capability of their teams, which sheds light on just how limiting fear of failure and perceived risks are.
"It's interesting how people adjust under pressure," notes Tatjana Lalkovic, CIO, Economical Insurance. "A while ago, someone asked us what it would take to enable a remote workforce. The answer was, over a year's effort and millions of dollars. Yet somehow, we managed to do it in two weeks."
Our roundtable agrees, this should be a lesson to organizations: they're capable of doing more, faster. That's something that can be carried forward beyond the crisis.
Tip #2: CIOs Must be Multifaceted
In order to advocate for rapid change, CIOs need a suite of attributes that exceed traditional tech skills. Those who will succeed in tomorrow's landscape must be:
Exceptional communicators
Capable collaborators, comfortable with their executive peers,
Well versed in the needs of customers, and driven to reach out to those customers to learn more about them
As the only role with full visibility into every department and a thorough understanding of the technological needs and options available to each team, CIOs are in a very unique and valuable position. But, they have to have the right skillsets to advocate for and implement change.
Lara Skripitsky, VP and CTO of McDonald's says CIOs who fit this bill have the potential and influence to drive the company in new directions:
Tip #3: Design for Agility
In Michael's countless interviews with innovators, he's identified a commonality in why they're able to pivot successfully. Take a look at why some companies have been able to manage overnight evolution, while others have struggled to pick up steam.
Georgia Woods, CIO of Canada Life points out that migrating to the cloud allows for smoother, more rapid scaling and prevents against vulnerability to crisis.
But Peter Sweers, CTO of Interac, notes that a cloud-only model may not be practical for all businesses. That's particularly true when it comes to security.
"There aren't enough cloud experts out there to deal with the pent-up demand of safely deploying applications to the cloud," he counters.
Having the right technology infrastructure and investments can help enterprises emerge stronger by (1) increasing their speed and agility, while (2) reducing costs and mitigating risks.
"We are going to be in a hybrid world for a long, long time. There is no doubt about it," concludes Mark.
Tip #4: Corporate Culture Will Dictate Success
The CIO has a vital role to play on advising and advocating for innovation, but, of course, there needs to be a willingness form the overall organization to invest in new ideas and, importantly, a culture to support innovation.
Tatjana Lalkovic, CIO of Economical Insurance feels the pandemic has given us a head start on building new cultures that work in a solution-based and optimistic mindset. All we need to do is make sure we don't backslide into overly conservative ways of thinking.
Budget for Failure
"For many IT shops, "80% of time and money is spent on maintenance rather than innovation," says Michael.
"You have to stop trying to justify the innovation budget for each item," adds Mark. Instead, say you have the budget for innovation. Some of this is going to pay off, and some of it's not."
Mark makes a good point – if you perform a cost-benefit analysis for every project, that leaves no room for risk.
Risk, of course, is the sister of innovation. You fundamentally cannot do something new and something predictable.
They are entirely mutually exclusive concepts.
Redesign Your Compensation Structure
Another challenge that organizations often find themselves in when trying to cultivate progressiveness is an inability to run multiple business models.
"Very often, almost always, senior leadership recognizes the need to change," says Michael. "But, the problem is, you derive revenue from products and services you've offered historically. While you're maintaining that revenue, you need to be building new sources of revenue and products."
One solution, according to Michael, is restructuring your sales team's compensation and commission model to incentivize selling more innovative products, instead of 'old faithful'.
Tip #5: Support Initiatives that Demonstrate Empathy
It's no longer enough for a company to provide great products and services with a frictionless experience. Consumer trends have illustrated, consistently, that organizations also need to demonstrate empathy.
Like all crises tend to do, COVID has served as an accelerator.
"We'd already started our move to digital channels way before the COVID crisis", shared Dr. Christian Menkens, CTO for Intact Financial Corporation. "But [COVID] accelerated our plans quite drastically over the last few months."
Now more than ever, successful businesses will demonstrate compassion to their customers and their employees.
Having empathy for the customer goes far beyond donating a portion of sales to a charity or investing in a carbon offset program. It means connecting with customers on a visceral, emotional level, and learning as much about them as possible.
Previously, that role may have belonged solely to sales or customer service, but Michael and Mark agree that, increasingly, CIOs need to be part of that conversation.
"Understanding our customers and employees; that's how we figure out the problems that need to be solved," explains Michael. "It's customer needs that should be driving decisions inside of the organization. How can you be a trusted advisor if you don't understand what customers care about?"
Taking the time to connect with customers is especially vital during a crisis. When emotions are heightened, as they are in a pandemic, so too are reactions. That means this is an opportunity to either exponentially deepen customer relationships by reacting well, or absolutely obliterate them by acting poorly.
Final Thoughts
CIOs are in a unique and weighty position. The decisions they make, and leadership they demonstrate in the coming months, stand to redefine the role for years to come.
As Mark says, "there has never been a better time to be a great CIO, and never a worse time to be a bad one."
Those that act with courage, decisiveness, and empathy, may just establish the CIO as a new calibre of influencer in the corporate climate.
Additional Reading
Beyond the Great Lockdown Action Guide
Scale Innovation at Speed with Hybrid Cloud: 1/1 with Jim Whitehurst, President, IBM from THINK 2020