By: Elevate Content Team in collaboration with TD Bank Group, February 02 2023
---
What could the future of the metaverse look like? What are the new frontiers in cybersecurity? We approach these two areas of the digital ecosystem through the eyes of two leaders at TD Bank Group (TD). Rizwan Khalfan, Executive Vice President and Chief Digital and Payments Officer at TD looks at the possibilities that lie in the metaverse and how this emerging channel could provide new opportunities to connect with customers. And in the world of cybersecurity, we find out from Glenn Foster, Senior Vice President, and Chief Information Security Officer at TD what leaders can do to move the field of cybersecurity into new frontiers.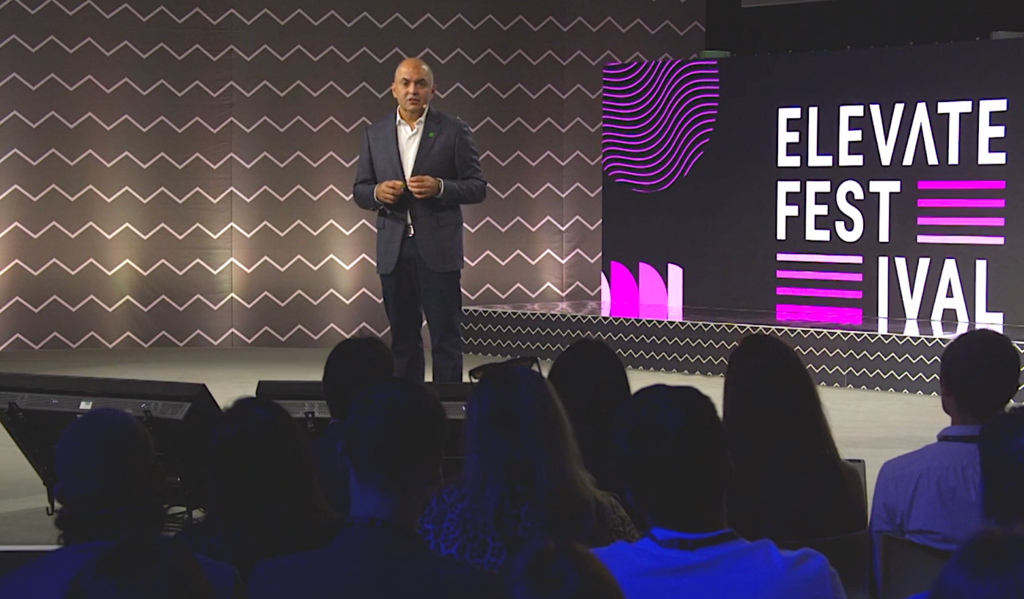 New frontiers into the metaverse
Growing up in the 1980s, Khalfan remembers a lot of speculation on how the Internet would evolve. He compares that era to the period we find ourselves in today when asking the question, "What is the future of the metaverse?"
The "metaverse" is a term coined 30 years ago to describe a parallel, separate 3D digital space. Digital highways and custom avatars aside, we are looking at the metaverse in the same speculative way as we viewed the Internet in its inception. The Internet's digital transformation became part of the mainstream for the financial services industry when banking began to shift online in the 1980s then to mobile in the 2010s. Finding patterns in digital adoption and transformation can help us better understand various paths to innovation.
"There [are] lots of lessons that we can learn from how the Internet evolved," says Khalfan.
What are the possibilities of the metaverse?
Khalfan describes the metaverse as a way to communicate that can create new avenues to socially connect, collaborate, create new commerce, opportunities, and redefine mobility.
During his Elevate Festival keynote, Khalfan discussed a world where the metaverse is mainstream. Where the physical and digital could come together to enrich real-life experiences, rather than replace the real world.
Guided by metaverse trends across industries, here are 7 changes that Khalfan could envision for a world where the metaverse would be mainstream:
Seamless integration.
Gone will be the days of those Star Trek-esque connected wearables, says Khalfan. And in their place will be sleek extended reality (XR) devices that blend into everyday life.
"Replaced by very natural form factors, connected fabric, connected gloves, smart glasses, and even contact lenses. And you can imagine, the experiences will be much more seamless than what's available today."
Network latency will no longer be an issue.
Network latency issues will become a thing of the past, according to Khalfan. And 6G will become widely available, connecting us faster and more reliably.
Our creativity will spill outside the box.
Similar to how Canva and Photoshop have made simple tools available to everyone to help unleash their creativity, AI will have caught up to current expectations of our ability to create – perhaps even to the extent that we can create assets using words, not code.
Opportunities to take education to the next level.
To highlight the immersive experiences that have already begun in the education field, Khalfan references the popular children's TV show "The Magic School Bus" to discuss future possibilities with the metaverse:
"Imagine the possibilities if every teacher could become Miss Frizzle and could shrink the entire class down to the size of an ant so they could actually explore the anatomy of insects or, reduce gravity so they could travel to other planets like Mars or ones that haven't been discovered," he says. While a few years ago, even suggesting this possibility might have seemed outlandish, now it is not so far-fetched in light of recent developments such as space tourism, cars that can practically drive themselves, and wearable technology.
Healthcare will have amazing potential for digital transformation.
In today's world, we've already seen research papers in Europe highlighting the introduction of high-resolution models, also known as "digital twins." Khalfan suggests that with the amount of data that will be available through these models, "digital twins" could play a role in moving medical science forward.
The physical and digital will come together seamlessly.
While the investments in the entertainment and gaming spaces continue to rise with increasing demand, virtual reality (VR) and augmented reality (AR) have become household terms. Rather than incurring the expenses and hassles of travelling to a place like Super Nintendo World in Japan, a virtual tour could feel very real.
"If you do decide to go there, what you would observe is that the physical and the digital are coming together, that there are objects that are digital that feel very real. It's the phygital. And phygital is already here, because in a lot of retail settings – in physical retail stores – they have digital objects that you can interact with, that'll track your movement so you can touch it, feel it. And so, you can see how our world is already evolving [by] bringing the physical and the digital together."
Immersive entertainment will stray from the linear.
When it comes to streaming, your in-home entertainment could be streamed in multiple ways – from passive to fully participatory. In passive mode, the content progresses in a linear fashion – much like we're used to in the 2020's. But in full participatory mode once-linear storylines would become more immersive where the viewers would become incorporated as characters into the story line and their family rooms would become part of the sets.
Be where your customers are
Khalfan says that while he doesn't work in the entertainment, healthcare, or scientific fields and can't speak to how they'll ultimately progress, he can speak to the world of banking and his role at TD. He believes that leading digital strategy, innovation and payments is "fundamentally based on trust".
With over 168 years in the business, protecting that trust, says Khalfan, is something TD prioritizes as they innovate to drive convenient solutions.
Khalfan remembers the early days of online banking when all the major banks in Canada were testing it out. When online banking went mainstream, it allowed people to do things like pay their bills on the go, and it gained traction because it was convenient, secure, fast, and accessible. And then when mobile became an option, banking evolved further.
"We always ensure that while we are creating these convenient solutions, [we are] protecting our customers and building on that trust," Khalfan remarks.
Khalfan sees exciting opportunities for banking in the metaverse that will unfold in the coming years. That's why TD is making investments in the metaverse because, says Khalfan: "We want to be where our customers are. And our customers are going to be in the metaverse. So, we want to be there to help define these interactions."
By continuing to collaborate and innovate on the metaverse platform coupled with a strong foundation based on ethics, inclusion, and the protection of customer trust – the possibilities are endless.
Watch Rizwan Khalfan's keynote on Elevate Festival's Metaverse & Me Stage:
---
Innovation in cybersecurity: The 5 ways leaders can move the field forward
"To drive adoption while protecting the customer, the cybersecurity field plays a leading role in innovation" says Vivek Khindria, Senior Vice President Cyber Security, Network, and Technology Risk at Loblaws Inc. On Elevate Festival's Secure & Protect Stage, presented by TD, a panel of leaders in cybersecurity gathered to discuss the future of cybersecurity and how to move the dial forward in the field. Host Naveen Balakrishnan, VP, Head of Third Party Management, Platforms & Technology at TD was joined by Vivek and Glenn Foster, SVP and Chief Information Security Officer (CISO) at TD.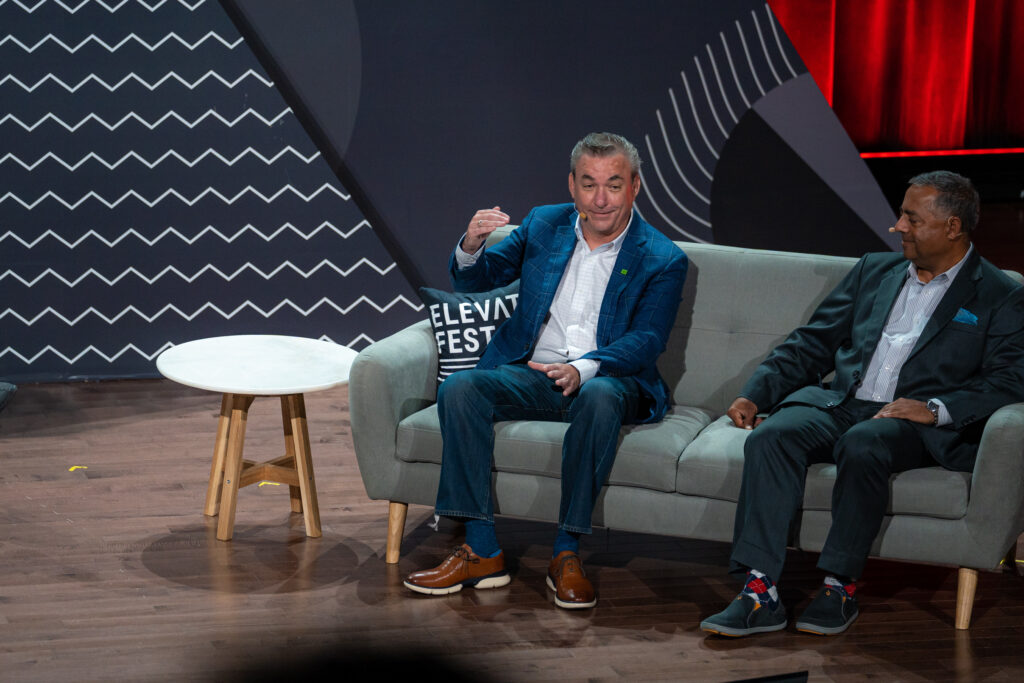 Invest in educating and empowering teams.
When asked, what is the key ingredient for success in cybersecurity, Foster spoke to TD culture and colleague responsibility around security.
"We spend a lot of money and significant time on the technical components and your weakest link is actually the human being, at the end of the day. So, we do invest a lot in the behavioural science component," says Foster. Foster explains that there is power in educating teams to understand cyber threats through real-world simulations and by developing their cyber literacy.
Partner with suppliers to reduce security risks.
As cybersecurity evolves, those who work in that space become aware of how high they must raise the bar to match the increasing risks that come with this evolution. Foster stresses how critical it is that we validate our suppliers for security purposes by performing security audits.
"As a bank, we're critical infrastructure, and those bars get higher every year. So, it's important that we work with [our suppliers] along the way, educate them, have them learn with us through more outreach."
Have empathy for the customer, business, and suppliers.
Especially for those in leadership positions, like CISO roles, empathy is key. According to Vivek Khindria of Loblaw Company, when we face situations, resilience issues, or an incident, it's crucial to keep communicating on all levels with your team, your adjacent teams, and your customers. Particularly during times of crisis, the best way to keep the team strong is to stay in touch.
Ensure that those in leadership positions possess the skills necessary to help the organization grow and evolve.
Foster recalls in the past that many Chief Information Security Officers (CISOs) simply fell into their roles. The role has evolved since then, he explains. The role demands something beyond what most senior executives are accustomed to fulfilling. Since cyber is not only a company issue but has implications in national defence, there is a certain skillset the role demands. When asked what the key attributes of a leading CISO are, Foster describes these leaders as intellectually curious, adaptable, flexible, and perpetual problem solvers who are continually invigorated by ever-evolving issues.
"There is no playbook, I've yet to see one that really captures what we do from year to year, but I think it's really about the individual," says Foster.
"I think it's choosing to learn a business because to be effective in the role, you're going to have to understand what makes your business tick. How the business makes the money, how they deliver service to their customers, what makes their customers happy, and that's a far stretch from configuring a router and configuring a firewall. So, it's quite a journey," adds cybersecurity panelist, Khindria.
Encourage more professionals from diverse backgrounds to get into the field.
With so many jobs out there, the field needs to expand its criteria and look at diverse backgrounds and skillsets. With over 50,000 open jobs in cybersecurity in North America in late 2022, the field isn't showing signs of slowing.
"This is a great area to get into because it's a career that never gets boring and is, what I would consider to be, recession-free. There's never been a time in the almost 25 years I've been doing this that there haven't been more jobs out there than there have been people to fill them," Foster says.
Digital transformation in both cybersecurity and the metaverse has impacted the financial sector in a myriad of ways. Organizations in this sector and beyond must be hyper-aware that the opportunities for innovation – while exciting and new – must also parallel the trust customers continue to require in their data protection and banking solutions. Moving too fast in one direction can signal lagging trust while not moving quickly enough could lead to missed opportunities and customer dissatisfaction.
Through the ebbs and flows of the digital economy, cybersecurity, and the metaverse can present opportunities for professionals, startups, and companies to connect with customers in both meaningful and innovative ways.
Watch the Leadership, Technology and Innovation panel, featuring Glenn Foster on Elevate Festival's Secure & Protect Stage, presented by TD Bank Group:
Want to receive more Elevate Festival updates, the latest tech trends, exclusive offers, and more right in your inbox? Sign up to become an Elevate Insider today.