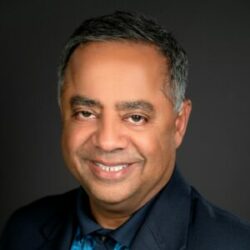 Senior Vice President Cyber Security, Network, and Technology Risk, Loblaw Company

Vivek Khindria, Senior Vice President Cyber Security, Network, and Technology Risk, Loblaw Company
Limited, CISSP, CISM, BSc. At LCL Vivek leads the cyber security, networks, critical facilities and the technology risk program for Loblaws, one of the largest businesses ($50B) in Canada, largest loyalty
program, and business services that span across retail, pharmacy, beauty, healthcare, banking, telecom,
travel, and insurance.
Vivek experience across a number of sectors, 9 years University/Research environment, 15 years in Financial Services with BMO and CIBC, 6 years in Telecommunications with Bell, and currently 4 years in
leading Security and Risk in one of the largest businesses in Canada, Loblaw, which includes over 22 brands, 200K employees across retail, financial services, health and pharmacy, beauty and ecommerce.
Food and medicine have never been more critical.
Vivek is a hands-on technical practitioner as well as a strategic thought leader on cyber security. Cyber
incident response and detection, cyber security testing, cyber security for cloud environments, PCI-DSS
compliance programs, information security benchmarking, Cyber strategies, securing software development, big data analytics for security, project and supplier assurance, web assurance and control
frameworks, security standards, security testing, and securing mobile networks, infrastructure and devices.
Vivek was a founding contributor to the creation of the not-for-profit Canadian Cyber Threat Exchange
(CCTX.ca) to help business in Canada more easily share information security relate threat information
and best practices. Vivek is the elected representative for Canada on the Information Security Forum executive council, which is a member driven global organization comprised of Fortune 500 companies developing and sharing cyber security research and thought leadership.