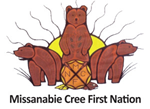 Toronto Hub Coordinator, Missanabie Cree Business Corporation

Vanessa is Muskego Cree and Italian from Missanabie Cree First Nation. Giving back to her community is of the utmost of importance to Vanessa and she finds her work within the Indigenous community very rewarding.
She brings vast experience to her role as the Toronto Hub Co-ordinator, which is apart of the Toronto Division of Missanabie Cree First Nation. Along with her Educational Degree's out of the State of Michigan where she studied. It is clear that she has experienced significant growth through work opportunities to enhance her skills throughout the years.