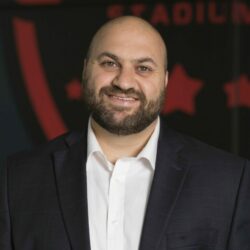 CEO, TGS Esports

Spiro Khouri is CEO and Co-Founder of TGS Esports Inc. In his role Spiro leads a team of 30 and has a focus on growing TGS through mergers and acquisitions, strategic partnerships, and live events.
Prior to joining TGS, Spiro drove the opening of the Elements Esports Lounge, the first esports facility in a casino in Canada. He also spent time at EA, working on the Need for Speed Franchise, as well as with the Vancouver Canadians Baseball Team.
Spiro is a father to two young gamers, Myles (4) and Logan (10 months), and spends his free time gaming. He also enjoys Big Brother, Comics, Star Wars, and is a lover of all baked goods.