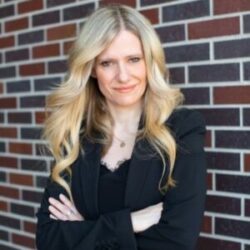 Vice-President, Strategy, Marketing & Communications, Invest Ottawa & Bayview Yards

Sonya Shorey, Vice President of Strategy, Marketing and Communications for Invest Ottawa, Bayview Yards, and Area X.O, is a strategy executive and management consultant with more than 22 years of leadership experience with private and public organizations. With expertise in regional, national, and global technology, entrepreneurial, economic development, and innovation-based organizations, she specializes in corporate and communications strategy development and execution. This includes investment strategies that secure new cash and in-kind contributions from public and private sources.
Since 2005, Sonya has led, strategized, authored and/or made a significant contribution to successful multi-year funding proposals and initiatives valued at more than $203 million from municipal, provincial, federal, and international governments.
Within her executive leadership role with Invest Ottawa, Bayview Yards and Area X.O, Sonya plays a pivotal role in developing, leading, and executing strategy for all three organizations. This includes:
• Area X.O, the futureplex of innovation and collaboration for next-generation smart mobility, connectivity and autonomy technologies;
• The Women Founders and Owners Strategy and Action Plan. This includes co-founding SheBoot, the investment-ready bootcamp for women tech founders designed and delivered by women entrepreneurs and investors, and founding International Women's Week in Canada's Capital; and International Women's Week.
• The first Pan-Ontario Scale-Up Platform of its kind aimed at enabling and accelerating the growth, scaleup and commercial success of more $100 million revenue-generating tech companies in Canada.
Sonya launched her career as the Manager of Communications and Member of the Vice-Presidential Cabinet with the 10G Organization of Optical Networks for Nortel from 1999 to 2002, and then served as the Director of Marketing Communications for CMC Microsystems until 2007. Building on a decade of experience, Sonya launched her own strategy company in 2008, addressing the needs of S&T organizations, innovation, entrepreneurship and economic development agencies across Canada, and their partners around the world. She currently serves Vice President of Strategy, Marketing and Communications for Invest Ottawa, lead economic development agency for knowledge-based industries in Canada's Capital.
Sonya is a Director of the Institute of Mental Health Research of the Royal Ottawa Hospital, Elevate
International, and Mindtrust Leadership. She also serves as mentor and pitch coach with Women in Cloud, AI North America, and Technovation. She holds a Combined Honours in English and Political Science from Carleton University and has won 10+ international awards for communications, leadership, and women's economic empowerment.