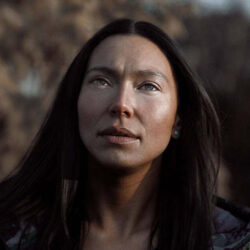 Artist, Indigenous Activist & Ambassador

Sarain is Anishinaabe from Batchawana First Nation, just outside of Sault Sainte Marie, Ontario. She is passionate about empowering Indigenous communities and amplifying their voices, especially those of the youth. She is a multifaceted artist and activist who comes from a long line of storytellers. Her mother and great aunt are the oral record keepers of the family. They have passed down ancient teachings from generations of knowledge-keepers and have raised her to be proud of her Indigenous roots. As a result, Sarain has become a powerful and vibrant voice for the Indigenous community.
She is a dancer, choreographer, stylist, activist, brand ambassador, television host and content producer. A storyteller at heart, Sarain has combined these various mediums to create a compelling social platform for amplifying the voices of her people. She uses her platform to celebrate the immense knowledge and talent of Indigenous people, designers and brands.
Sarain's screen highlights include the award-winning series, RISE (Viceland), Cut-off (Viceland) and APTN's Future History. Her ability to dive into challenging social and cultural topics has gained Sarain an audience that is as diverse as it is engaged. She reaches folks across North America, and beyond, who share her vision for creating meaningful dialogue about Indigenous resilience and resistance.
In fashion, Sarain has leant her voice to international brands such as Sephora, Canada Goose, Nike N7 and Manitobah Mukluks. She sees each partnership and campaign as an opportunity to highlight her culture in the mainstream, share the stage with up-and-coming Indigenous talent and change the world for her people.
Sarain has trained at some of the most highly acclaimed faculties such as Quinte Ballet School, The Canadian Children's Dance Theatre and Alvin Ailey American Dance Theatre. Sarain has starred in music videos and on stage with artists such as Buffy Saint Marie, Digging Roots, A Tribe Called Red, Once a Tree, Kahawaii dance theatre (Toronto), Untld. Collective (Australia) and Ajkun Ballet Theatre (NYC). Sarain was the choreographer and lead in Theatre New Brunswick's' The Eighth Fire and premiered her solo work, The Red Road Block, at Toronto's Harbourfront Centre. She works extensively with Xara Choral Theatre on works such as Fatty Legs and, most recently, Rings Through Water.
Sarain uses a various mediums and social platforms to prove that Indigenous representation matters…and is desired! [This bio was originally published on Sarain Fox's website.].
Register to hear Sarain Fox speak at a FREE virtual Elevate Earth Day event, presented by Mackenzie Investments on Thursday, April 20 at 1:30 p.m. EDT.