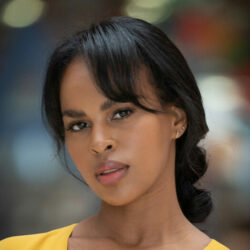 UN Goodwill Ambassador for IFAD, Model

Sabrina Dhowre Elba is an actress, activist and model. She was appointed the UN Goodwill Ambassador for the International Fund for Agricultural Development in April 2020. Born in Canada, of Somali descent, she has been featured on the cover of British Vogue, Sunday Times Style and Harrods Magazine, and has been a guest presenter for ITV's Good Morning Britain.
She also works with a variety of civil society organizations, including Conservation International, on environmental issues.
She is passionate about gender equality and promoting the empowerment of women and girls worldwide.