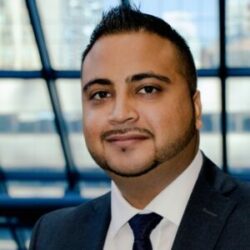 Cybersecurity & Technology Analyst, Ritesh Kotak Consulting

Ritesh has dedicated his personal and professional career to assisting organizations and communities in effectively leveraging technology. He started his career in law enforcement focused on cybercrime and digital transformation before transitioning to working in Tech. In 2019, he decided to attend law school to commence his Juris Doctor. While in law school, Ritesh worked on several Tech Law and Access to Justice related projects from creating an automated airline refund app, a data breach toolkit and the first moot trial in the Metaverse.
Ritesh has had the privilege of working and presenting around the world including the World Internet Conference, the Major City Chiefs/FBI National Executive Institute Conference, NATO-sponsored Cybersecurity Conference and several other events around the world. Ritesh frequently provides interviews to mainstream media on cyber and tech-related stories. Ritesh holds a BBA, MBA and JD.