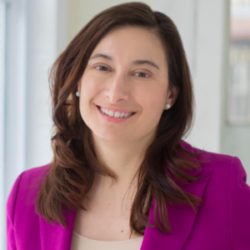 Head, B2C Platforms Strategy & Operations, BMO

Rebecca Tascona is Head, B2C Platform Strategy & Operations at BMO Financial Group, where she drives multi-year technology planning, and the execution of transformation agendas.
She is Co-Executive Sponsor of BMO's Women in Tech & Ops, as well as the recent #DestinationDigital Tech/Digital Innovation Sprint competition – a 30-hour hackathon that brought together digital talent from across the company.
Rebecca joined BMO in 2005 in the Corporate Strategy group, and has grown her career across progressively senior roles in Retail Banking, Credit Cards, Insurance, Wealth Management, and now within the Technology & Operations function.
Rebecca is a passionate volunteer in the community, and a diversity and inclusion advocate. She is a member of BMO's Enterprise Black & Latino Advisory Council, and is a committed ally on the Black Canada Taskforce. She recently received an Outstanding Volunteer Award from the United Way Waterloo Region, where she has been a member of the Campaign Cabinet for three years, and will now serve on the Board of Directors.