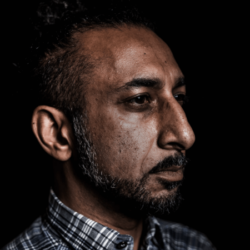 Storyteller & Board Director, WonderSeed Foundation

"Khayyam leaves you feeling like you just consumed a few shots of espresso. His ability to synthesize information and complex systems into innovative solutions is possible with years of generalizing his specialties with strategy, spectacle, and storytelling.
Involved in hundreds of award winning campaigns, including two dozen Cannes Lions and back-to-back Grand Prix Lions while serving as Chief Innovation Officer at Immersive Media, creators of Google Streetview. Grew revenue many multiples and soon after, Digital Domain acquired the company. Moved on to co-found VR stereoscopic live-streaming camera and accompanying cloud with Halsey Minor (CNET). The transcoding and encoding engine were retooled and launched a utility token through ICO in 2018.
Now sitting at the intersection of physical and digital, the only bridge left is to be built upon culture. Khayyam has dedicated his passion and energies to the experiential applications of innovation to help cement that culture into place."