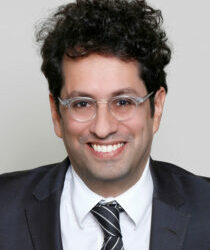 Co-Founder & Executive Director, Leadership Lab, Toronto Metropolitan University

Karim is a public service leader who has worked in progressively senior roles in public policy, politics, journalism and academia in Toronto and the United States since 2001. He co-founded the Leadership Lab at Toronto Metropolitan University as a leadership and policy thinktank to generate new thinking and leadership on our most pressing public challenges.
Karim was previously Deputy Principal Secretary and Executive Director of Policy for two Ontario Premiers. He was a candidate in Parkdale—High Park in the 2022 Ontario provincial election.
He has worked as a journalist, as a politics and policy columnist for The Toronto Star, an editorial writer at The Globe and Mail, and as an editorial assistant at Slate magazine. Karim holds a Master in Public Policy from Harvard's John F. Kennedy School of Government.
He is the son of immigrants from Egypt and England and grew up in Bathurst, New Brunswick. He and his wife are raising their two children in Toronto's west end.