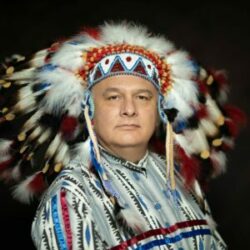 General Manager, Missanabie Cree Business Corporation

Joe Tom is currently the General Manager of the Missanabie Cree Business Corporation; a wholly owned company of the Missanabie Cree First Nation.
He is a lifelong member of the Ojibways of Batchewana and identifies as Giizhe Anishinaabe and is of the traditional crane clan.
Joe has worked to balance his formal education and business career with his cultural upbringing as a hereditary keeper for his community. It has allowed him to develop a unique and impactful approach to innovation and success.
A graduate with distinction and Gold medal winner in 2018 from the Faculty of Arts, Joe Tom's undergrad in Public Administration and Governance at Toronto Metropolitan University prepared him for a Master's degree in Public Administration at Queen's University School of Graduate Studies in 2020. He moved on to the PhD program in Social and Political Thought at York University shortly after and continues his studies and research into Indigenous Civics and Political Ethics.
He grew up on the Rankin Reserve near Sault Ste Marie Ontario, and spent his summers with family in the Indigenous village of Batchawana Bay where his parents were born and raised. His father and two uncles attended the Garnier Indian Residential School for Boys in Spanish Ontario, and Joe spent over a decade working with survivors in recording their stories, developed innovative healing programs and assisted survivors in filing for compensation for the horrific physical and sexual abuse suffered at the hands of school authorities.
After completing his degree in Journalism at the University of Western Ontario, Joe began his work in land and rights based claims for his home community. He successfully negotiated the return of a small island in the St. Mary's river to reserve plus a multi-million dollar compensation package and a resource
management agreement with the government of Ontario to provide for the treaty right to commercial fish and manage the fishery for all of Eastern Lake Superior based on Indigenous sovereignty and jurisdiction.
Joe was raised by his parents and was tutored in traditional leadership by his late uncle, a hereditary chief. He continues to practice his culture and his life commitment to his nation as keeper, healer, helper and advocate.