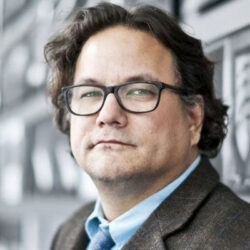 Broadcaster, Indigenous Advocate & Pop Culture Philosopher

Well known as a film critic and broadcaster in Toronto and across Canada, Jesse was the first nationally syndicated Indigenous columnist for the CBC, covering film and pop culture for 20 local CBC Radio programs. He has also been a regular guest on CBC Newsworld's News Morning and Weekend Edition, as well as Q.
Jesse is Ojibwe, and his family comes from Chicago and the Serpent River First Nation in Ontario. Jesse is Chair of the board of directors for the Canada Council for the Arts.
His first book is published Sept 2021, titled Unreconciled: Family, Truth, and Indigenous Resistance, and he's been co-producing his first film, a screen adaptation of Thomas King's best-selling book, The Inconvenient Indian.
His experience also includes that of being named the first Executive Director of the Indigenous Screen Office. He is an advocate for Aboriginal Arts, most notably on screen. He draws attention to the imagery used by Hollywood in portrayals of indigenous peoples and stresses the need for a culture to have influence on their own depiction. His pieces on The Revenant, Beyonce and sports mascots were among the most shared on CBC.ca.
In his previous role as the Director of Film Programmes at TIFF Bell Lightbox, Jesse oversaw New Releases, series and TIFF Cinematheque programming and scheduling. Some of his contributions to TIFF Bell Lightbox in programming included retrospectives on Roman Polanski, Paul Verhoeven, Ousmane Sembène, Oscar Micheaux, Studio Ghibli and Robert Altman. His first major curatorial project at TIFF Bell Lightbox was the landmark film programme First Peoples Cinema: 1500 Nations, One Tradition and its accompanying gallery exhibition, Home on Native Land. In the summer of 2013 he curated TOGA! The Reinvention of American Comedy, which brought cast and crew members of Animal House together for an onstage reunion.
In 2014, Jesse co-organized the Canadian premiere of the immensely popular travelling exhibition Stanley Kubrick. Prior to his appointment as Director of Film Programmes, Jesse served as one of the Canadian features programmers for the Toronto International Film Festival, and also programmed for the imagineNATIVE Film and Media Festival. Jesse has been featured in documentaries such Reel Injun, Nightmare Factory and Why Horror? Jesse served as president of Native Earth Performing Arts, Canada's oldest Indigenous Performing Arts Company for a decade.
An outspoken advocate for Indigenous rights and First Nations, Metis and Inuit art, he has spoken at the International Forum of Indigenous Peoples, Smithsonian's National Museum of the American Indian, the Canadian Arts Summit, the Cultural Summit of the Americas, and numerous Universities and Colleges.
In 2017, Jesse was named the inaugural recipient of the Reelworld Film Festival's Reel Activist Award, and in 2018 he received the Association of Ontario Health Centres' Media Award.