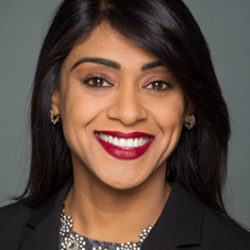 Minister of Diversity and Inclusion and Youth
The Government of Canada
The Honourable Bardish Chagger is the Minister of Diversity and Inclusion and Youth and was elected in 2015 as the Member of Parliament for Waterloo.
Minister Chagger is devoted to inclusion and community building. From assisting with recreational sports for kids to volunteering with seniors, she is committed to strengthening the bonds of the Waterloo community.
In an earlier role with the Kitchener-Waterloo Multicultural Centre, Minister Chagger worked to foster diversity within the community and provide opportunities for social and economic engagement. As an executive assistant to former Member of Parliament Andrew Telegdi, she gained a deep understanding of the issues of importance to residents of Waterloo, including manufacturing, technology, and innovation.
Passionate about community involvement, Minister Chagger has lent her support to many different causes and organizations, including the Rotary Club of Waterloo, Interfaith Grand River, and the Workforce Planning Board of Waterloo Wellington Dufferin.
Minister Chagger considers herself part of the Charter of Rights and Freedoms generation, and has participated in policy conferences on many issues, including the advancement of same-sex marriage rights and a national manufacturing strategy.
She graduated from the University of Waterloo with a Bachelor of Science. In 2012, the Waterloo Region Record recognized Minister Chagger as one of "40 under 40" who would lead the Region of Waterloo into the future.