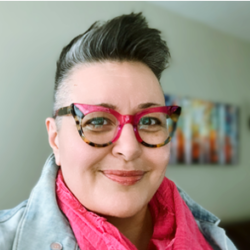 Chief Learning Officer, BMO

What if we could change the world? Together, we can.
I'm on a mission to change how people learn and build new skills for a bold future – starting now.
I'm a business-focused professional, and I'm passionate about the future of work. Through a career spanning more than 30 years, I have developed deep experience in human-centred design, learning and skill development, front-line banking and financial services, and strategies and solutions that make an impact.
As Chief Learning Officer, I lead BMO's enterprise learning and skills strategies, design, operations and governance. I work with an amazing, diverse team of professionals who support all the ways employees learn: for their job, career, personal interests, and to prepare for tomorrow. I also manage BMO's corporate university – BMO IFL, the Institute for Learning – in Toronto, learning sites in Chicago and Montreal, and the virtual BMO U.
I'm proud to be an active member of the World Economic Forum's Reskilling Revolution, a Board Member for the Students Commission of Canada, and I sit on advisory boards for various learning and technology companies and professional networks.