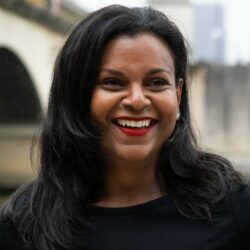 VP, Strategic Initiatives & Change Management, CFO Group

Cheryl Tjok-A-Tam is an accomplished business professional with 20+ years of experience at leading industry organizations including AT&T Canada, IBM Global Services and Royal Bank of Canada (RBC) with sector experience in Technology, Consulting, Telecom and Finance.
She is a dynamic leader and team builder with extensive successes pertaining to large strategic business transformation inclusive of delivery, technology integration and governance leveraging both Program Management and Agile Methodology. She is recognized as a change agent who can navigate an organization effectively and efficiently while building deep cross-functional relationships. Cheryl thrives in situations that require transformation by bringing strategic thinking and a pragmatic approach for execution and oversight.
During her career at RBC she has championed living legacy initiatives including the Client Reporting Program for eStatements, Internet Protocol Contact Centre (IPCC), Commercial Servicing Model, Client Appointment Booking (CAB) and the first OMNI digitization journey (Choose A Bank) within Personal & Commercial Banking. Through these experiences she has demonstrated a natural aptitude for innovation and transformation exercising a balance of speed to market and the best interest of servicing clients. She has lead large matrixed teams across business and technology exemplifying the representation of 'OneRBC' and known for holding every team member accountable to an owner/operator model.
In her current role, she leads a team of approximately 50 resources supporting the CFO Group business leaders to achieve their financial and strategic objectives to enable the future of finance.
Cheryl is widely recognized as a change agent & advocate through fostering meaningful dialogue of diversity, inclusion, equity and belonging. She is the executive co-chair of Beacon, a grass-roots, bank employee led initiative endeavoring to support the career progression of Black professionals and mentorship of youth. She is also an active board member for Springboard Services, helping at risk and vulnerable youth and adults through critical transitions in their lives with a focus on community justice, employment and developmental disability services.