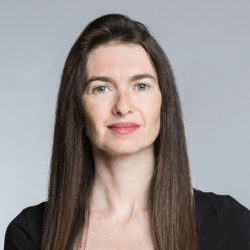 CoFounder & Chief Evangelist Officer
Muse® by Interaxon Inc.
Ariel Garten is a neuroscientist, inventor, and artist turned entrepreneur. After launching a clothing line that opened Toronto Fashion Week and starting her own psychotherapy practice, Ariel had the idea to create a wellness tool that combined meditation and technology. With a desire to understand the self, from both scientific and artistic perspectives, Ariel went to work with BCI technology in the lab of Dr. Steve Mann that led her to co-found Muse®, the brain sensing meditation headband. Muse® quickly became the fastest growing consumer neurotechnology device with millions of meditation sessions logged worldwide. Today, Ariel is on a mission to bring easy-to-use and accessible wellness tools to people everywhere, helping them interact with the world directly with their brain.