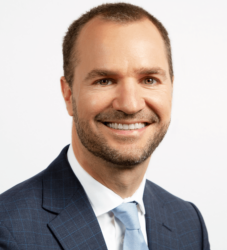 Deputy Commissioner, Competition Promotion Branch, Competition Bureau, Government of Canada

Anthony Durocher is Deputy Commissioner of the Competition Promotion Branch at the Competition Bureau of Canada. Competition is the engine that drives Canada's economy, and in his position, Anthony's primary role is to champion competition and its direct benefits to consumers and the economy.
He leads a team of 70 who work together to fly the flag of competition. As Branch head, Anthony supports the success of the International Affairs; Policy, Advocacy and Planning; Communications; Compliance and Outreach; and Economic Analysis teams.
Anthony has held increasingly senior roles in his 18 years at the Competition Bureau including Deputy Commissioner responsible for the Monopolistic Practices Directorate and Assistant Deputy Commissioner in the Mergers Directorate.
Anthony holds a Bachelor of Economics from McGill University and a Master of Economics from the University of British Columbia.