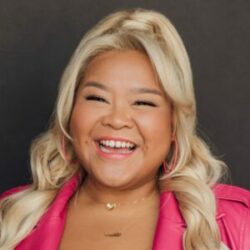 Canadian Sketch Comedian, Actress, & Television Host

Described by The Globe and Mail as "a right hot blast of funny," Ann Pornel cut her comedy teeth as a regular cast member on Sunday Night Live, a weekly sketch show in Toronto, and continued creating biting satire at the venerated Second City Toronto Mainstage where she wrote three critically-acclaimed shows. She would move on to join the cast of She The People, which has toured at Just For Laughs in Montreal, Edmonton Fringe, as well as a limited engagement with Mirvish Productions.
Ann is a Canadian Comedy Award winner and winner of the 2017 Entertainer of the Year award from My Entertainment World. Ann's unique perspectives on diversity, body image and inclusion have garnered her spots at NBC's Break Out Comedy Festival and JFL 42. Ann has appeared on and written for The Baroness Von Sketch Show, The Beaverton and This Hour Has 22 Minutes. She is currently one of the co-hosts of the iconic Great Canadian Baking Show, and was nominated for a 2021 CSA for Best Co-Host.