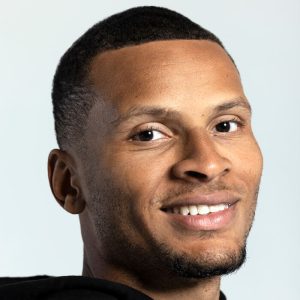 10x Olympic & World Championship Sprint Medalist

With six Olympic medals, Andre De Grasse is the most decorated male Olympian in Canadian history. Andre captured medals in all three sprint events at both the 2016 Rio Olympics and again five years later at the Tokyo Olympics. He's the reigning Olympic Champion in the 200m, having upgraded the silver he won behind Usain Bolt in 2016, and a two-time bronze medalist in the 100m event. Andre added a silver medal in the 4x100m relay to complete a full set from Tokyo, improving upon the bronze medal from Rio.
Andre first made a name for himself in the spring of 2015 after winning gold in the 100m and 200m at the NCAA Championships. The next month, he sprinted to victory in the 100 and 200m events in his own backyard at the Toronto Pan Am Games. He capped off the magical season by competing in his first World Championships where he took home bronze medals in the 100m and 4x100m relay.
Injury and illness slowed Andre down for a couple of seasons, but he fought his way back and came home from the 2019 World Championships having won medals in the 100m and 200m events, the only male sprinter to do so at the meet.
Off the track, Andre is a proud father raising three children with his partner Nia Ali, who is the reigning World Champion in the women's 100m hurdles and an Olympic Silver medalist. The speedy couple met at the University of Southern California and live and trained together in Jacksonville, Florida.
In addition to his responsibility as a family man, Andre seeks to inspire and empower youth through the work of the Andre De Grasse Family Foundation and as an author of children's books.