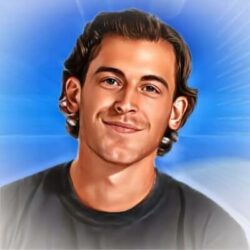 Founder, Hush Blankets

A 27-year-old Canadian serial entrepreneur who co-founded Revitasize at 18 years old – a cold-pressed juice kitchen serving smoothies, acai bowls, and a variety of vegan options. Within four years, Revitasize expanded to 8+ locations across Toronto.
Recently co-founded a sleep company called Hush. Selling a product now considered to be World's Most Popular (And Reviewed) weighted blanket. To help those with sleep, anxiety, insomnia, ADHD, and more. Within its first 24 months, Hush has grown to an 8-figure brand. The company launched a successful Kickstarter campaign that raised $1.5M+ in 30 days – making it the Top 10 most raised Canadian 30-day Campaign ever!
Hush has become a brand trusted by over 150,000 people. Innovating and creating the Hush Pillow, Mattress, Iced cooling sheets, and more!
More recently Hush was acquired by Sleep Country in a landmark deal for Canadian E-commerce.
Aaron is also a former Canadian Junior Hockey League player, 5th in all-time scoring.