By: Tristen Schneider, June 17 2022
---
Elevate Talent sat down with Darrell Brertton Jr. a young, thriving Indigenous leader from Saddle Lake Cree Nation, AB who is on a mission to improve the communication gap between administration and membership for Indigenous organizations across Turtle Island. Darrell currently has over 60+ clients across Canada using the Communikit App technology. He currently works with Aivia Inc. as a Business Development Specialist based in Edmonton, Alberta. 
Our chat with Darrell focused on his pathway in the untapped Indigenous representation in tech and innovation. Here's his story.
Within the Indigenous communities we like to look back on our communities and families, so, could you tell me a bit more about yourself?
I'm a young father of 2 boys and I honestly believe that being a young father helped me become the mature, responsible, young man that I am today. I moved away from the reserve when I was 3 months old, as my mom left my father and moved back to the city to live with her mother, my kokum. I've lived in the city my whole life. But I'm very lucky and blessed because, [because of the] Indian residential schools and Sixties Scoop, there are many people who lost touch with their culture, our Indigenous culture. It's ironic because my mother actually didn't even know she was First Nations until she was 17 years old in high school. Neither my mother nor grandmother attended residential schools, but at that time, they were living on a ranch in B.C. When the RCMP arrived, they didn't take the children because these children were working on a ranch already and were considered "civilized," away from their culture. My grandmother wasn't really in touch with our culture, so my mom wasn't taught anything about it.
At 17, [my mother] did a [deeper dive] into her culture, like about First Nations, Metis, and Inuit. She got in touch with an elder in Grand Prairie and learned everything, including the teachings, the stories, the dancing, and performing. She got more in touch with her culture, went to ceremonies, and then from there had me at 23 or 24 years old. She was an Aboriginal Liaison Coordinator at the Catholic Schools here in the city, and as I was her son, I would [tag along] when she delivered the teachings, and [that's how I learned] the teachings.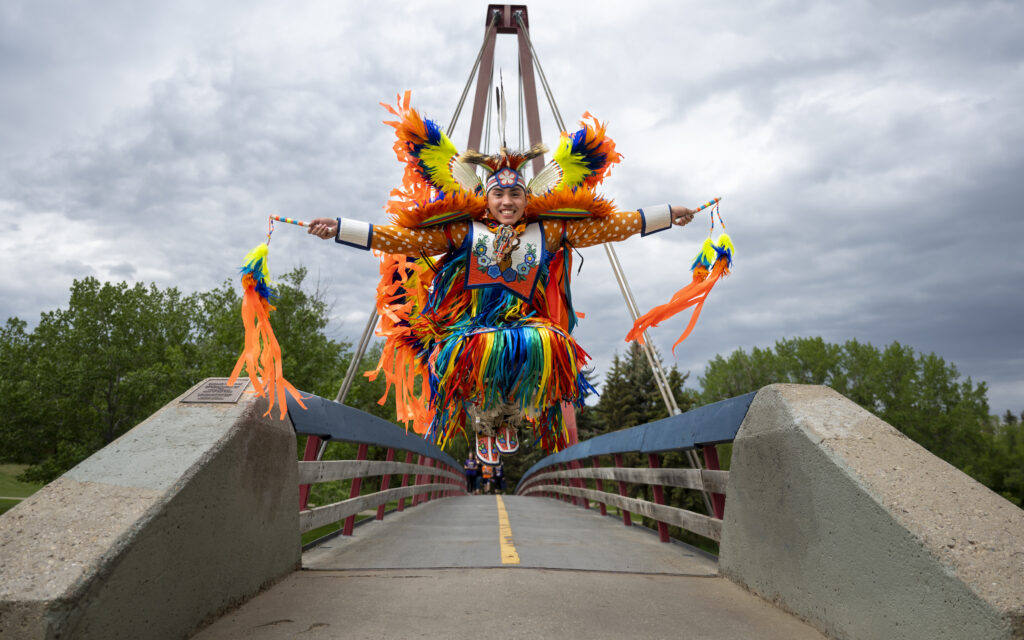 In grade 11, I found out I was going to be a father, so I finished school by the first semester of grade 12 and jumped into working in the construction oil field here in Alberta because that's all I was taught by my stepfather. Soon after, I found myself out in Regina, SK to demo the RCMP Camp and see where they train all their RCMP officers. I went into [protection services] to gain work experience. [I was planning] to apply to the RCMP then go train and actually become a constable or an officer, but then on my journey [in the spring of 2019], I met this individual that changed my life. She's the one that actually opened up my mind to entrepreneurship and business.
One of my goals in life is to honor her, my dear friend. She has made a huge impact on my life. She is no longer here and passed away 4 months after I met her. She explained to me the difference between an asset and a liability, which changed my way of thinking. To honor her, I would like to have a small multifamily property and name it "Jamie's Courtyard." I'm thankful and grateful that she explained it to me, literally everything happens for a reason.
I appreciate you sharing your journey with me. Now, that brings me to my next question: How did you start working in tech and what led you to your current role at Aivia Inc.?
While working in the [protection services] field, I would have 12-hour shifts, sitting in my truck all night-long. I purchased Youtube Premium to download lots of videos. I started learning about how to save my money better by watching all those videos. I indulged in real estate videos, learning how to flip houses, rent them out, and use refinancing strategies. I then went to a workshop in Los Angeles, California, and learned a lot from a former LAPD police officer who became a real estate house flipper. [It] was inspiring to learn from an individual that's actually doing it; walking the talk not just talking the talk.
After quitting my job in [protection services] in November 2020, I transitioned into car sales. [A month later], I got scooped up by one of my Pow Wow friends who is an owner of Young Spirit Supplies, an Indigenous-owned distribution and supply business. After recognizing my success in car sales – since I often created videos of the cars being sold – my friend wanted me to join his team. I was having trouble closing sales once I joined Young Spirit Supplies. I wasn't trained on how to approach First Nations communities; I didn't know who to ask for, or who to speak to.
I resigned from Young Spirit Supplies and attended this big tech conference in Miami. I had no income, putting all my last dollars into this conference and trading. That's when I got a call from the company where I am now, Aivia Inc, as they saw my tech talks on TikTok and Instagram. They thought I was a great fit for them, since they built apps for First Nation communities. It was really tempting, but, with my past experience, I almost didn't want to do it.
I went all-in with Aivia and it's been paying off. It's through hard work, perseverance, persistence, determination, and having a positive mental attitude that I am where I am today. The only thing that's really changing is that I'm becoming more aware and more spiritually aligned with everything, and I'm getting better at presenting and closing. I'm thankful and grateful.
I had an in-person meeting in George Gordon First Nation, Saskatchewan. They have over 3,800 members in the nation, but 65% of their nation lives off the reserve. They actually really needed our app, so we made the app for nations like theirs, where the majority of members basically live off-reserve. I was just a natural in the room, I guess, they just loved me, they loved the presentation and the energy. They were all for it and they really saw the value, or, I helped them see the value in getting the app technology implemented. That's all sales really is, you are just showing the person the value of the product or service.
You had me at the edge of my seat hearing you speak. You're certainly a natural. I want to acknowledge that, because sometimes, when we share our stories, they are quite powerful. It's astounding that you have accomplished so much as a young person and what a pleasure it is to be a witness to your growth.
I have to say with your journey, one thing I kind of really took away from what you shared was that you know the path isn't linear, but that it has brought you to that full circle of where you need to be and where you are headed.
Thank you, Darrell, this brings me to my last question, the tech and innovation sector is continuing to grow as it welcomes more of the Indigenous community. What is your advice for an Indigenous person that is looking to start a career in tech and innovation?
My advice is to get started as soon as you can, and the number one reason why is because I'm on a computer right now, I'm using this phone right now, and I'm using air pods during this interview. Not only that, all the software that's being developed needs to be maintained. You don't ever have to worry about being without work, because you'll always have work within the tech industry. If you're not building something, you'll be maintaining something. If you're not maintaining something, you'll be fixing something. If you're not improving something, you'll be inventing something. There's all these different areas to be working in within tech and for sure, being Indigenous we have a niche, a really big niche that we can fill and provide for.
Is there anything else you'd like to add before we wrap up our interview?
A quote that I'm going to end it off with is one from Jim Rohn. Jim Rohn is a serial entrepreneur and he's well respected but he's no longer here. There's so many quotes that I could [take from] him, but the one that I will say that stands out the most is, "In order for my world to be better, I have to become better." Another thing to add on to that quote is, in order for things to change, in order for my results to change, in order for my income to change, in order for my home to change, in order for my relationships to change, I have to change what I'm doing on a daily basis. Because the way that we think, the way that we speak, the way that we act, the things that we do, they just equal the results we get.
So, if I'm not changing internally, if I'm not levelling up mentally, spiritually, and emotionally, then I'm not going to level up in the physical realm in my world around me. The only thing that changed was me inside, not outside. No one handed me a spoon, I did all the work inside. And, yes, this opportunity to work with this company is a part of the creators work, but it also wouldn't have happened, and wouldn't have been going the way that it is right now if I didn't put in the work internally. If I wasn't prepared for this opportunity, it would have just slipped through my hands.
Craving more content?