By: Robyn James, September 26 2023
---
The 17th annual CIX Summit will take place March 26 & 27 at The Design Exchange
Elevate has announced that it has signed an agreement to acquire the Canadian Innovation Exchange (CIX), Canada's largest startup awards program and investment conference. This acquisition will strengthen Elevate's ability to support startups and scaleups across Canada, connect the innovation ecosystem year-round, and provide companies with access to capital.
CIX is an annual curation program and conference which showcases Canada's most promising early stage and scaling startups. Due to the high concentration of curated startups, CIX attracts North American VCs, corporates, private equity investors and provides the tools to network, build new relationships, and increase deal flow. In its 17th year, the coveted CIX Top 20 Early and CIX Top 20 Growth annual awards program attracts hundreds of applications from across Canada. In 2022, 485 companies applied and CIX's Selection Committee of 140 global investors evaluated and selected the 30 most innovative companies, 92% of which received funding within 1-year following their CIX recognition.
"Each year, CIX brings together the highest concentration of startup execs and capital providers. It's known as the tech conference where deals get done," commented Elevate CEO Lisa Zarzeczny. "This acquisition will strengthen Elevate's engagement with the tech ecosystem 365 days a year, and further our ability to support startups and scaleups from across Canada."
The 17th annual CIX summit will take place March 26 & 27 at Elevate's home in the Design Exchange. Applications are now open for the Top 20 Early and Top 10 Growth awards and Canadian startups are encouraged to apply.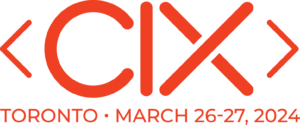 "Elevate's leading role in facilitating business and educational opportunities for the Canadian tech industry make it the ideal home for CIX's beloved conference and industry recognized programs. We are looking forward to watching Lisa and her team build upon the brand's substantial reach and prominence," said Russell Goldstein, President & CEO, Brunico Communications.
"I am thrilled that CIX is joining Elevate," said Lauren Crerar, who has been CIX's Executive Director for 10 years. "This acquisition creates a powerful synergy of shared values and vision for propelling Canada's top startups to new heights. I look forward to working with Lisa and the amazing Elevate team."
To learn how you can get involved with CIX 2024 submit your interest here. To apply for the CIX Top 20 Early or the Top 10 Growth awards, visit the application page.
About Elevate
Elevate is a Canadian non-profit that builds and unites world-class innovators through tech training courses, entrepreneurship programs, and industry-leading events at the intersection of technology, arts, and social innovation. Through strategic partnerships, an affiliation with the UN, and a roster of powerhouse speakers, Elevate inspires and invites its community to co-create a more equitable and sustainable future.
Elevate has hosted global icons such as former First Lady and author Michelle Obama, businesswoman Martha Stewart, former CEO of Google Eric Schmidt and Vice President Al Gore on the Elevate Main Stage, each of whom has inspired millions of people worldwide. Learn more at www.Elevate.ca.
About Brunico Communications
Brunico Communications is a renowned leader in the B2B event space, producing top international entertainment content marketplace and conferences including Realscreen Summit, Kidscreen Summit, NATPE and Banff World Media Festival, in addition to trusted entertainment trade publications such as Realscreen, Kidscreen, Strategy and Playback.