By: Elevate Content Team, March 21 2023
---
Elevate, in partnership with The Firehood, announced up to $2.3 million in funding under the Government of Canada's WES Inclusive Women Venture Capital Initiative. The WES Inclusive Women Venture Capital Initiative is a 2-year program that seeks to strengthen and build a more inclusive venture capital environment for Canadian women.
This scale of funding for women entrepreneurs and investors is extremely timely, especially as the United Nations recently reported that, without investment, it would take the world nearly 300 years to achieve gender equality.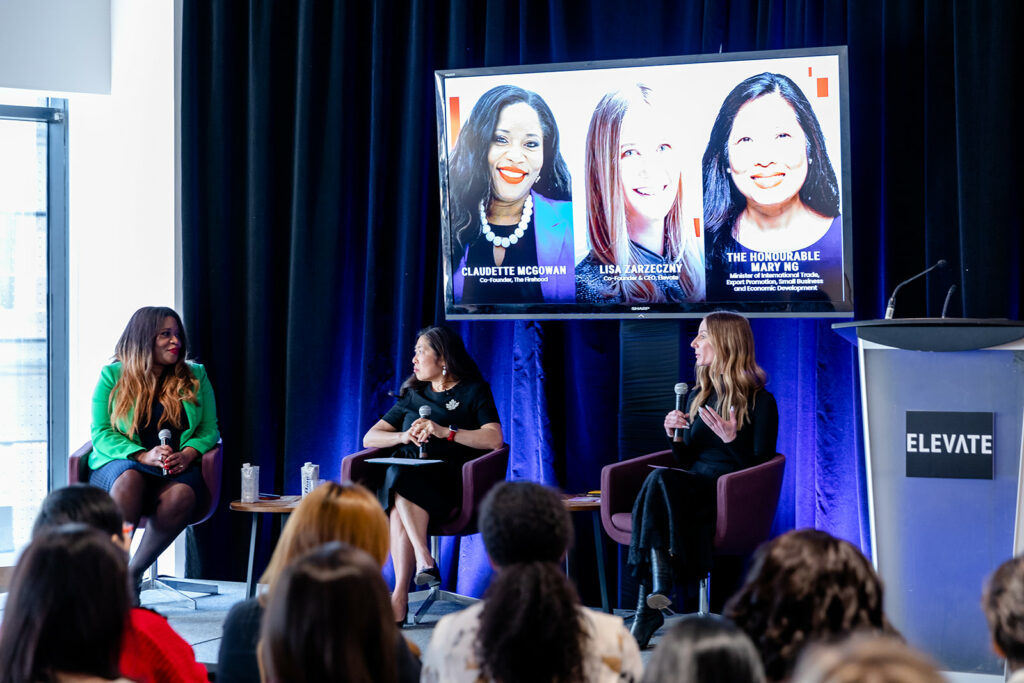 "The full and equal participation of women in the economy is not just the right thing to do; it's the smart thing to do. By supporting initiatives that unlock opportunities for women entrepreneurs, we want to drive more funding to women-led startups and see more women participating in the investment ecosystem. Elevate has a strong history offering diverse programming and opportunities for women in tech and innovation, and I'm excited to see them expand on those programs."

The Honourable Mary Ng, Minister of Small Business, Export Promotion and International Trade of Canada, Government Of Canada
The focus on women entrepreneurs and women investors is intentional, since both groups face disproportionate access to critical resources necessary for the growth of their careers, businesses, and overall wealth and prosperity. Women entrepreneurs and founders represent 40% of business owners yet they receive under 3% of VC dollars.
Want to receive more Elevate Festival updates, the latest tech trends, exclusive offers, and more right in your inbox? Sign up to become an Elevate Insider today.
To address these gaps the initiative will fund two program streams: The Building Community Initiative and the Women in Tech project. The first stream, the Building Community Initiative, will take an intersectional approach to address key gaps in the Canadian venture capital and entrepreneurship environment.The second stream is The Women In Tech project, which involves an engagement strategy to bring women from across Canada to the Women In Tech experience at Elevate Festival 2023. Taking place in Toronto, Ontario from September 26-28, 2023, this year's Elevate Festival will feature a Women in Tech Lounge, Investor Zone, Main Stage programming, and curated events where women in tech, women founders, and gender-diverse professionals can network, learn, and build community.
"By addressing these gaps through the delivery of two distinct program streams that offer resources, training and mentorship to women entrepreneurs and women investors, Elevate and The Firehood will foster the connections, networks, and access that currently represent barriers for women," notes Claudette McGowan, Co-Founder, The Firehood.
To ensure access to programming across Canada, a minimum of 30% of program components will be delivered as virtual events or resources. Additionally, early multi-region engagement and membership-building will be planned through a national tour of Canada connecting directly with women entrepreneurs from across the Prairies, BC, Northern Ontario, Southwest Ontario, across the Atlantic and Northern Regions of Canada.
"This initiative is well-aligned with our mission of building a technology and innovation ecosystem in Canada that is sustainable and includes everyone," commented Lisa Zarzeczny, CEO & Co-Founder of Elevate. "This funding will allow us to cultivate a truly national network and connect directly with women entrepreneurs from coast to coast to coast."
This year's Elevate Festival promises to be a place where women in tech, women founders, women investors, and gender-diverse professionals can come together for community, collaboration, networking, growth opportunities, and access.
Don't wait, tickets are on sale now for Elevate Festival, which takes place in Toronto from September 26-28. 2023.
---
This article was originally published via Cision and lightly edited for context.