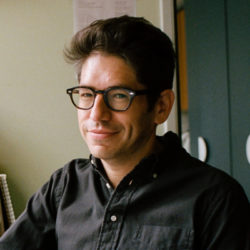 CoFounder
Kickstarter
Yancey Strickler is a writer, speaker, and the Cofounder and former CEO of Kickstarter. Kickstarter has helped filmmakers, musicians, writers, designers, artists, and other creative people raise more than $4 billion to bring new creative projects to life. Kickstarter projects have won Grammys and Oscars, entered the Museum of Modern Art, gone into space, and pioneered new fields of technology.
Yancey has been recognized as one of Fast Company's Most Creative People, Fortune's 40 Under 40, and a World Economic Forum Young Global Leader. He has spoken at the Museum of Modern Art, MIT Media Lab, Stanford, Columbia University, the Tribeca and Sundance Film Festivals, and events around the globe.
Yancey is also Cofounder of The Creative Independent, a growing resource of emotional and practical guidance for creative people. His writing has appeared in Pitchfork, Spin, The Village Voice, and The Washington Post. His first book, entitled "This Could Be Our Future," will be published by Viking Press in Fall 2019.