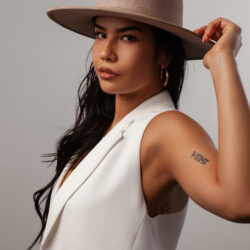 Featured Guest
Founder, Matriarch Movement
As a Nehiyaw Iskwew (Plains Cree Womxn) from Muscowpetung First Nations, Shayla Stonechild, has always been a catalyst towards Indigenous youth and womxn unlocking their full potential. By reclaiming their voices, bodies and spirits that have been silenced and stolen throughout history. There is a shift happening in humanity right now and she believes the arts, meditation, movement and reclaiming an Indigenous worldview is a part of amplifying that shift.
From growing up around her mother's performing arts company, and continuing on to graduate from "Vancouver Academy of Dramatic Arts" and "Vancouver School of Healing Arts". She has always been active within her community. Shayla has received the title of the"Metis Youth Ambassador of Alberta" and was a finalist for "Miss Teen Canada" representing her hometown, Medicine Hat.
Shayla is moving into hosting Season 4 of APTN's "Red Earth Uncovered". She is a trauma-informed yoga instructor at "CMMN GRND" with over 500+ yoga teacher training hours. Shayla is listed internationally as one of the Top "20 Yoga Instructors of Color to Watch in 2020".
Furthermore, she is the founder of the "Matriarch Movement" a non-profit organization dedicated to amplifying Indigenous voices through story, meditation, movement and medicine. She wrote an article titled "Reclaiming Our Roots" for Jillian Harris on Canada day that received over 15,000 shares. She is currently working with "SNIWWOC" and the "Native Women's Resource Centre of Toronto" providing free and accessible wellness workshops to BIPOC women across Canada.
Shayla has a history of collaborations and partnerships such as Royal Bank of Canada, Telus, Audible, Saje Wellness, DoorDash, BC Women's Foundation, The Body Shop and Lululemon. Shayla has been interviewed by ETalk and The Social CTV. As well as featured in Vita, Basenotes and Hello! Magazine.