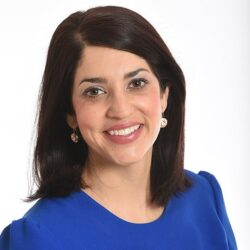 Director, Genomics in Society, Genome Canada

Sapna Mahajan is an executive leader with more than 15 years of national and international experience in the health field, specifically leading public affairs, research, policy, and program implementation. She is currently the Director of Genomics in Society at Genome Canada responsible for providing strategic leadership to help bring genomics solutions to key societal and economic challenges, and propel promising concepts through the research and innovation ecosystem to deliver equitable impacts that benefit communities across the country and globally.
For more than a decade, she was Director of Programs and Priorities at the Mental Health Commission of Canada, where she led ground-breaking work in the areas of workplace mental health, peer support, e-mental health, and suicide prevention. This included leading the development of the first in the world National Standard for Psychological Health and Safety in the Workplace, as well as related Standards targeted to paramedics and post-secondary students. She is currently the Co-Chair of the Asia Pacific Economic Cooperation Workplace Wellness and Resilience Working Group, member of the World Health Organization's Guidelines Working Group, and Technical Committee Member for ISO's Psychological health and safety at work: Guidelines.
In 2018, she was recruited to spend two years at Treasury Board Secretariat leading government-wide efforts in the areas of diversity, inclusion, mental health, and wellness. Prior to joining the Commission, Sapna worked at the Queen's Center for Health Services and Policy Research, as well as the William J Clinton Foundation and the Centre for International Health and Development.
Sapna holds a master's in international public health – Health Policy and Management from Boston University. She is a Canadian Healthcare Executive and a Project Management Professional. In 2015, she was chosen to participate in the Governor General Canadian Leadership Conference.
She is an active community member volunteering with several charities and not for profit organizations, including as a Board member of the Pinecrest-Queensway Community Health Centre, CHEO Research Institute and Mindful Employer, founding member of the Guardian Council for the United Kingdom based organization Togetherall, and as an International Expert Advisory Committee member for Aga Khan University's Brain and Mind Institute.