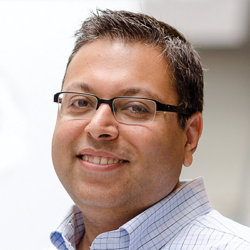 Partner
Radical Ventures
Salim Teja is a Partner with Radical Ventures, a $350M early-stage venture capital firm investing in entrepreneurs applying deep technology to transform massive industries. With a primary focus on machine learning and artificial intelligence, Radical Ventures partners with exceptional entrepreneurs to build enduring global companies.
Salim brings over 20 years of experience in the technology sector as an entrepreneur, venture investor, corporate innovator and innovation ecosystem builder. Prior to Radical Ventures, Salim served as President, Venture Services for MaRS Discovery District, one of the world's largest urban innovation centres. Salim led the strategic direction of MaRS' Venture Services Program across four sectors including Energy & Environment (Cleantech), Finance &Commerce (Fintech), Health and Enterprise. This program engaged a portfolio of over 1200 high growth ventures who had raised over $1.3B in capital and had generated over $1.4B in revenue.
Prior to MaRS, Salim has held leadership roles with Indigo Books & Music, Brightspark Ventures and San Francisco-based MobShop Inc, a pioneering e-commerce venture funded by GE Capital, Visa International and Mayfield Fund.