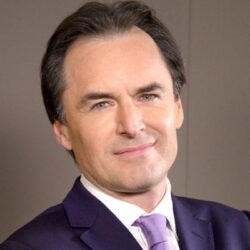 Canada's Preeminent Moderator & Conversation Convener

Rudyard is the organiser and moderator of the Munk Debates, the world's preeminent public debating forum. Griffiths is a public commentator on Canadian cultural issues, national politics and international affairs and is an advisor to various not-for-profit foundations and organizations in Canada, the United States and the United Kingdom.
He is the author Who We Are: A Citizen's Manifesto, which became Globe and Mail best book of the year, and has edited various essays on Canadian and international political and historical themes. His television and media commentary includes roles as Anchor of Bloomberg North for Bloomberg TV Canada, the bi-monthly Next Debate interview and podcast series for The Globe and Mail, and as co-anchor of NATIONAL AFFAIRS on CTV News Channel. Griffiths first joined CTV as co-host of Squeeze Play, BNN's daily business and politics show.
Rudyard Griffiths was the co-founder of the Dominion Institute; a national charity created to promote history and civics education in Canadian high schools. The Dominion Institute and the Historica Foundation merged to create Historica Canada where he remained a board member of the combined organization until 2012. He is a founding director and member of the executive committee of the board of the Global Centre for Pluralism; an international initiative of the Aga Khan IV and the Government of Canada.
His contributions have also included roles as a member of the advisory boards of the Nuclear Waste Management Organization (Canada), the U.K. based Ditchley Foundation, as board member of the Stratford Shakespearian Festival, and the Rt. Hon. Adrienne Clarkson's Canadian Institute for Citizenship.
In 2006, Rudyard was recognised by The Globe and Mail as one of Canada's Top 40 under 40. He studied history and political science at Trinity College, University of Toronto and completed a masters of philosophy at Cambridge University.