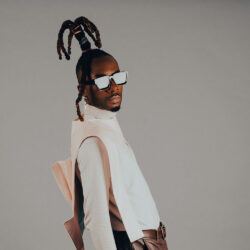 Singer

Mutari is an enigma. Originally from Cameroon (Central Africa), The Berlin born, Toronto based artist doesn't fit neatly onto one musical genre. His madcap energy is spread across a bevy of Rock, Pop, R&B, Jazz and Hip Hop influences. A signature sound and style crafted through amalgamation, ancestral costumes, and the refusal to play without a live band – his collective known as The Foreign Sound.
Mining the depths of his inner turmoil and diversive curiosity, Mutari has etched out his own distinct realm in the chaotic arena of young ascending artists today. His frenetic personality and hyperactive demeanor easily set Mutari apart from the pack, suggesting a duality that is both hard and approachable, an exuberance tempered with a rare sense of vulnerability. Mutari leans on the idea of neuroplasticity – being able to learn and grow, while also unlearning and unteaching yourself in order to push past self-created boundaries. "Break the fuckin box", as he likes to put it.
His cathartic live performances are imbued with the significance of what it means to persevere, and a man who has had to really fucking fight to be here. Evocative, ribald and unapologetic.
SEE THIS MAN. KNOW THIS MAN. EMBRACE THIS MAN. TRUST THIS MAN. LOVE THIS MAN.