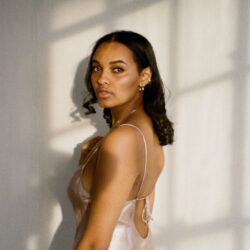 Singer, Song-Writer

We find power in vulnerability. By opening up, Liza [pronounced "lee-za"] exudes confidence in its purest and most unfiltered form. The Ethiopian-Canadian singer/songwriter brings dynamic range to neo-soul, alternating between moments of hushed intimacy, delicate introspection, and climactic catharsis. Hailed by Atwood Magazine "as a voice for the R&B sound today," she has quietly attracted praise from Billboard, Refinery29, FLOOD Magazine, TheFADER and Complex, in addition to amassing millions of streams independently. Her 2021 EP, DONE IS DONE, illuminates strength through a real-life post-heartbreak rebirth.

Growing up as a first-generation Canadian raised by a single father, Liza embraced a myriad of music at a young age. Dad played Marvin Gaye, Mariah Carey, and Sade, but he also introduced her to Ethiopian trailblazers such as Aster Aweke, and Gossaye Tesfaye. Armed with a karaoke machine at four-years-old, she began to hone her voice by singing constantly. Speaking Amharic and English, she leaned into her Ethiopian influences by often mimicking Aster's falsetto tones and cultivating an expansive vocal style of her own.

In between holding down a career as a registered nurse and clinical researcher, she assembled DONE IS DONE with producers Akeel Henry and Kofo. The centerpiece "LANSDOWNE" pairs airy guitar with a glitchy beat as her voice flutters between an anxious exhale and empowered high register. With LANSDOWNE surpassing 1 million streams on Spotify alone within three months of its release, Liza continues to grow her audience through viscerally relatable music.

IIn 2019, Liza lent her voice to "COMPLEXITIES" from Daniel Caesar's critically acclaimed CASE STUDY 01 and landed on Michelle Obama's Higher Ground official Spotify playlist, in BET's Twenties, and ABC's Grown-ish. In September, Liza was one of six selected artists to take part in the ASCAP's annual The Come Up Showcase and was selected as Soundcloud's Artist to Watch for the month of October.