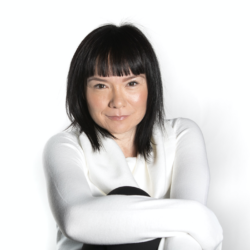 Featured Artist
Award Winning Film and Television Producer
Jennifer Podemski is an award-winning actor and producer whose career has spanned over three decades. Born and raised in Toronto, Jennifer is of Israeli and First Nations heritage and has built a career, on both sides of the camera, dedicated to expanding Indigenous narratives. Her work has garnered international recognition and she has travelled across North America and Europe advocating on behalf of Indigenous perspectives in the media.

Well known for her starring role in Bruce McDonald's acclaimed feature film Dance Me Outside (20th Anniversary), Jennifer has sustained an ongoing presence in front of the camera for more than 25 years.

Some of her most memorable performances include: The Rez, Riverdale, Degrassi TNG, The Border, Moose TV, and Sensitive Skin. Jennifer has also appeared in Sarah Polley's Take This Waltz (TIFF 2012); Empire of Dirt (TIFF 2014/CSA Nominee 2015), Firesong (TIFF 2015); and the critically acclaimed hit TV series Blackstone (2016 APTN/Netflix). In 2015, Jennifer's first feature film as producer, Empire of Dirt garnered 5 nominations at the Canadian Screen Awards. In 2017, Jennifer can be seen in the TVO/APTN medical drama Hard Rock Medical.

Behind the camera, Jennifer owns and operates Redcloud Studios Inc., an independent production company based in Barrie, ON. She is the Co-Executive Producer of the award winning Indspire Awards (Global/APTN); Creator and Producer of the paranormal documentary series The Other Side (APTN); as well as Co-Creator and Producer of Future History (APTN). As a director, she focuses primarily on long form factual, lifestyle and documentary content, but will be directing her first feature film in the summer of 2017.

While balancing a busy schedule, Jennifer also dedicates her time to mentor Native youth across Canada and the USA. She facilitates workshops on self-awareness and goal setting, and is focused on empowering youth to realize their full potential. Through her production company, she offers professional training/coaching.