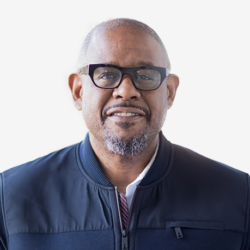 Academy Award Winning Artist and Activist

Forest Whitaker is an American actor, producer, and director. He is also an advocate of Sustainable Development Goals appointed by Secretary-general of the United Nations.
For his performance as Ugandan dictator Idi Amin in the 2006 film The Last King of Scotland, Whitaker won the Academy Award, BAFTA Award, Golden Globe Award, National Board of Review Award, Screen Actors Guild Award, and various critics groups' awards for a lead acting performance.
In 2012 he founded The Whitaker Peace & Development Initiative (WPDI) to promote the values of peace, reconciliation, and social development within communities impacted by conflict and violence.