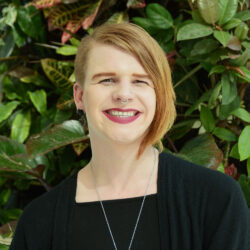 Executive Director, Wisdom2Action

Fae Johnstone, MSW, is a consultant, writer and activist with over 8 years of local and national involvement in 2SLGBTQ+, feminist and anti-gender-based violence advocacy. As the Executive Director of Wisdom2Action, she leads a diverse team undertaking local, provincial and national initiatives in the areas of 2SLGBTQ+ inclusion, mental health, children's rights and violence prevention. Through Fae's leadership, Wisdom2Action has played a key role advancing 2SLGBTQ+ rights in Canada, most notably through coordinated advocacy efforts on trans rights, trans health, supporting 2SLGBTQ+ community organizations and banning conversion therapy.
Fae is a highly regarded public speaker, writer and 2SLGBTQ+ inclusion consultant. Over the past decade she has trained dozens of workplaces and social service organizations across Canada on 2SLGBTQ+ and trans inclusion. She is a recurring contributor with Xtra Magazine, and her work has been published in the Ottawa Citizen, Toronto Star, Huffington Post and other publications.
Outside of work and activism, Fae can be found drinking copious amounts of coffee at independent coffee shops, consuming a few too many chicken club sandwiches at every sandwich shop she can find, and hanging out with her three very energetic ferrets – all of whom she can talk about for hours on end. Fae can be found on Twitter at @FaeJohnstone.