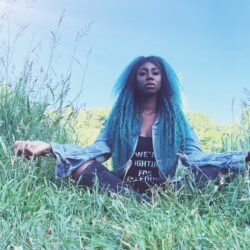 Emerging Artist
Singer-Songwriter
People around the world will forever remember waking up on a rainy day in March and turning on their TV's to the image and sound of a teal haired artist's voice filling the empty streets of Toronto, as hundreds isolated in their homes during the global lockdown, watched and applauded emotionally through their windows. Domanique Grant never imagined that a simple act of kindness during a pandemic, would lead to a viral single, international radio play, brand endorsements and what CTV National's Lisa LaFlamme has called "The anthem of our time".
Named one of BUZZFEED'S top 20 artists' to watch, Domanique Grant is the perfect combination of whimsical fierceness. One of the sirens most prophetic powers is vulnerability, compelling songwriting and lyrical gift that breaks down your walls and empowers you to let go of trying to be anything but your most authentic self.
Domanique's message of self-love and body positivity has led to music being featured by L'Oreal Paris, Unilever Brands in the RBC #RandomActsofCanadianSeries and more. Last year her viral single Till We See The Sun was featured on top 40 radio stations ranging from Virgin Radio to CBC. Her live performance has sold out a TEDx Talk and been featured on the Pepsi World Aids Day stage for over 40,000 people in Uganda. Domanique was handpicked to perform for the Prime Minister of Canada, while her long term advocacy for education and housing rights for children without access, lead to performing for The United Nations and becoming an Ambassador for Music Canada's Music Cares Initiative.