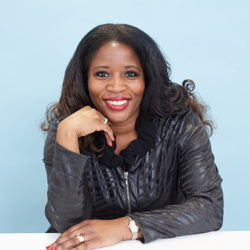 CEO at Protexxa and Co-Founder at The Firehood
TD
Claudette McGowan is a global information technology leader with more than 18 years of success leading digital transformations, optimizing infrastructure and designing new approaches that improve service experiences. She has worked in the technology industry for several organizations such as Deloitte, Metropolitan Police Services, North York General Hospital, Bank of Montreal and TD Bank. ​ Claudette began her career at BMO in 2000 and held multiple senior leadership roles including Chief Information Officer, Enterprise Technology Employee Experience. In 2020, she joined TD Bank as Global Executive Officer for Cyber Security. ​In her spare time, Claudette writes books for children, builds robots and is the founder of the Black Arts & Innovation Expo. Claudette holds a Bachelor of Arts from Lakehead University and a Master of Business Administration from Athabasca University.
She is the recipient of several prestigious awards: In January 2020, she was selected as an honoree at the Jamaican Canadian Association's 20th International Women's Day event for her groundbreaking work in STEM. In 2019, Toronto Life recognized her as one of the city's Top 50 Most Influential Torontonians, Women's Executive Network recognized her as one of the Top 100 Most Powerful Women in Canada, AdWeek Magazine heralded Claudette as a Toronto Brand Star, and the Digital Finance Institute honoured her as one of the Top 50 Canadian Women in FinTech. In September 2019, Claudette also had the honour of moderating what is being hailed as 'the most insightful one-on-one conversation' with Former First Lady of the United States, Michelle Obama, in front of a sold-out crowd of 3,000-plus at Elevate Festival, Canada's fastest-growing tech festival.   
Want to see world-class speakers at the upcoming Elevate Festival? We're back in Toronto from September 26-28, 2023. Learn more.