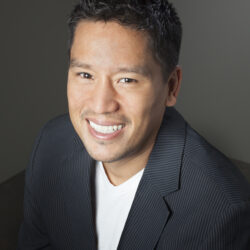 Founder, G Adventures & NY Times Bestselling Author

Entrepreneur, leader and philanthropist Bruce Poon Tip, is the founder of G Adventures, an award-winning small group adventure travel company and pioneer of community tourism.
Following a transformational backpacking trip to Asia, Bruce had an idea to change the face of travel. In 1990, at the age of 22 and on two maxed-out credit cards, Bruce started G Adventures, a tour operator designed to bridge the divide between backpacking and mainstream travel, and to connect travellers with local people in the countries they visit.
Fast forward 30 years: G Adventures is now the world's largest small group adventure travel company, with 28 offices worldwide. We host 200,000 travellers per year, offer more than 750 tours, and travel to 100 countries — across all seven continents.
In 2003, with a vision that travel could be a force for social good and significant wealth distribution, Bruce founded G Adventures' nonprofit partner, the Planeterra Foundation. Planeterra harnesses the power of the tourism supply chain to channel travellers' dollars into underserved communities around the world.
Bruce's work with organizations such as the Inter-American Development Bank (IDB), the Multilateral Investment Fund (MIF), like-minded companies, and Indigenous people, has led to more than 100 community development projects being supported globally, meaning 90% of travellers on a G Adventures tour visit a social enterprise project.
Passionate about the power of travel to change the world for the better, Bruce has become a global leader in social entrepreneurship, leadership, immersive travel, and innovation.
He has addressed the United Nations and the World Bank, spoken at the headquarters of Apple and Google, and delivered keynote speeches at TED events and entrepreneurship conferences around the world.
In 2012, Bruce was inducted into the Social Venture Network Hall of Fame, joining celebrated entrepreneurs such as Richard Branson (Virgin Airlines), Anita Roddick (The Body Shop), and Ben Cohen and Jerry Greenfield (Ben and Jerry's Ice Cream). He was also awarded a Queen Elizabeth II Diamond Jubilee Medal, which recognizes significant contributions to society, and named EY Entrepreneur of the Year in 2016, 2006 and 2002.
In 2018, Bruce was inducted into the British Travel and Hospitality Hall of Fame, and honoured as one of AFAR USA's 'Travel Vanguards' – a visionary travel industry leader who is changing the face of travel for the better. He was also honoured as one of Canada's Most Admired CEOs in the category of social entrepreneurship.
In June 2019, Bruce was granted an honorary Doctor of Laws from Capilano University, to recognize his significant community contribution at the local, national and international levels, and he entered Glassdoor's Top CEOs list at number 10 later that year. In 2020, Bruce was conferred with additional honorary doctorates; a second Doctorate of Laws from the University of Victoria, and an honorary Doctorate of Business from Johnson and Wales University in Rhode Island, U.S. He was also announced one of Fast Company's Most Creative People in Business.
Bruce's first book, Looptail: How One Company Changed the World by Reinventing Business, was released in 2013 and became a New York Times Best Seller, and the first business book to be endorsed by His Holiness the Dalai Lama, who penned the book's foreword. In 2015, Bruce released his second book, Do Big Small Things, a beautifully designed journal about life and travel that takes readers on a journey and encourages them to share their own inspirations and creativity. In 2020, Bruce released an instabook called Unlearn: The Year the Earth Stood Still, which explores what travel could look like post-pandemic.
Built on the foundation of a strong company culture that celebrates happiness and freedom and rewards disruptive innovation through risk-taking and fun, G Adventures has been named one of the 50 Best Managed Companies for more than 10 years and is repeatedly recognized as a "best place to work" in Australia, Canada, the United Kingdom, and the United States.