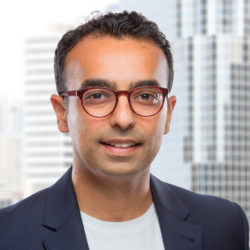 Managing Partner & Head of Deloitte Data
Deloitte
In his role as Managing Partner and Head of Deloitte Data, Bilal is responsible for helping develop and execute Deloitte's data and innovation agenda, as well as the development of data strategies and transformations for the firm's clients. Bilal is a member of the Province of Ontario's first ever Digital and Data task force, to advise the government on how to navigate the immense opportunities and challenges of the new economy.
Prior to joining Deloitte, Bilal was the founding Chief Executive Officer of OneEleven, a scale-up innovation hub focused on helping Canada's most promising, high-growth start-ups commercialize their technologies and scale their operations. He previously held the role of Director of Policy and Senior Advisor to three consecutive Ministers of Economic Development, Trade and Innovation for the Province of Ontario, where he was responsible for establishing and implementing policies to help advance Ontario's economy. A lawyer, Bilal spent his early career practicing corporate and securities law as Legal Counsel to Russell Investments, a U.S. based multi-asset manager (acquired by the London Stock Exchange Group).
Bilal is the co-founder of MSix Ventures, an early stage investment fund, and a co-founder of Elevate Tech Fest, one of Canada's largest tech and innovation festival. He has worked at the United Nations at the Centre for Business and Human Rights, is a Munk Fellow at the University of Toronto, Munk School of Global Affairs & Public Policy, and is a member of the Governor General's Innovation Council. Bilal sits on a number of Boards, including Toronto Global, the Canadian Club of Toronto, and TVO.
Bilal holds a JD from the University of Windsor, Faculty of Law, and is an alumnus of Singularity University at the NASA Ames Research Centre in the area of exponential technologies. Bilal was named one of Canada's Top 40 under 40 and recently included in the Bay Street Bull Power 50 list.