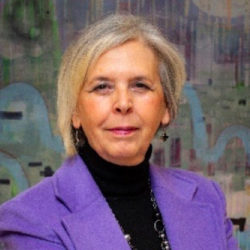 Executive Director
City of Guelph, Smart Cities
Barbara Swartzentruber is currently the Executive Director of Strategy, Innovation and Intergovernmental Relations at the City of Guelph. One of the many innovation projects that she is currently leading is the SmartCities Canada Initiative–Creating aCanada's 1st Circular Food Economy–a winning collaboration between the City of Guelph & the County ofWellington, along with public and private sector partners. This project seeks to utilize the principles of a circular economy to create a sustainable regional food system that increases access to healthy nutritious food, prevents and reduces food loss, and creates a green economy by valuing waste as a resource.
Barbara has more than 30 years of experience in the public sector, leading the development of strategy & policy initiatives at the local, provincial and national level in the areas of smart cities, citizen engagement, digital economy, rural broadband, open government/data, I & IT Strategy. She has taught public policy, community development and advocacy at several Canadian universities. Her work includes a focus on public sector innovation & collaboration, including recent projects such as the Guelph Lab, the Civic Accelerator, and the Municipal Innovation Exchange.