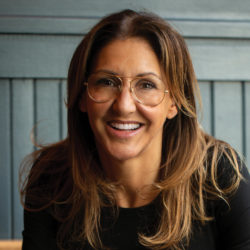 CEO & Founder
The 7 Virtues
Barb Stegemann's entrepreneurial vision was formed after her best friend—a soldier—was severely wounded in Afghanistan. Understanding that supporting Afghanistan's economy was key to building stability for its people, Stegemann created The 7 Virtues, a company that sources organic, fair trade essential oils from countries experiencing turmoil (such as Afghanistan, Haiti the Middle East and Rwanda). Despite addressing complex global matters in her talks, Stegemann uses humour to explain how individuals can use business for good and effect change, both at home and worlds away.
Stegemann became known to millions of Canadians when she became the first woman from Atlantic Canada to land a venture-capital deal on the CBC TV show Dragons' Den for The 7 Virtues Beauty. She went on to become the "Top Game Changer" in the history of the show for creating her social enterprise.
Since then, Stegemann has been named one of Canada's Top 100 Most Powerful Women in Canada; won the Ernst & Young "Entrepreneur of the Year Award in the emerging Entrepreneur category for Atlantic Canada"; was ranked as one of Profit Guide magazine's "Top 30 Cool and Fabulous Canadian Entrepreneurs"; and was also made the first female Honorary Colonel in the history of 14 Wing Greenwood base, Royal Canadian Air Force.
As a keynote speaker, Stegemann has opened for Erin Brockovich, and is often invited to moderate panels and attend events as a delegate with world leaders such as Bill Clinton.
She is the author of the bestselling book, The 7 Virtues of a Philosopher Queen, and the subject of the feature-length documentary Perfume War, directed by Michael Melski. The film tells Barb's entrepreneurial story, and has garnered many awards to date, including being named Best Feature Documentary, Atlantic Film Festival; Cineplex Audience Choice, Victoria Film Festival; and Best Humanitarian Film, Sedona Film Festival, Arizona.
A newsmaker, Stegemann has been featured in major media around the world including in the The Wall Street Journal Magazine, The London Sunday Times, The Globe and Mail, The National Post, Tattler, and on CBC, CNN, Bloomberg, and more.
The 7 Virtues fragrances are phthalate free and vegan and are available at the Hudson's Bay stores across Canada. A new contemporary perfume collection launches in Sephora Stores in Canada in February 2018.