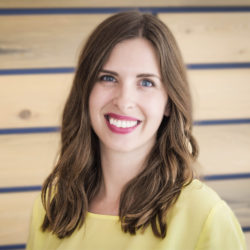 VP Integrated Marketing
Kin
Ashley Riske is VP Integrated Marketing for Kin Canada and leads the company's sales and client-marketing operations. She helped lead the launch of Kin in Canada in 2014 and she and her team have worked with dozens of Fortune 500 companies. Working with these brands the team develops plans that leverage the voices of Kin's influential creators, the power of content storytelling, and strategic media amplification to drive success for brands.
Ashley also works closely with teams at Corus Entertainment – who acquired Kin in the spring of 2019 – to ideate and implement highly successful multi-platform brand solutions spanning both digital and broadcast. In the past four years, Kin and Corus have co-executed successful campaigns, receiving a CPRS Gold for Interac in 2019, IABC Award of Excellence and Award of Merit for Walmart in 2018, and the DigiAward for Best Multi-Platform Strategy for Motrin in 2016. Media In Canada also named Motrin one of the top 10 best-branded content strategies of 2016.