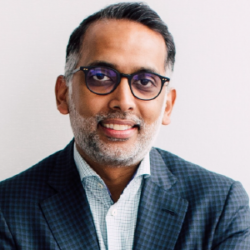 Managing Partner & President - Digital & Innovation at KPMG
KPMG
Armughan Ahmad is a technology executive with 20+ years of experience helping clients undergo digital transformations. He has built globally diverse teams that digitally engineer business functions using exponential technologies to deliver innovative customer experiences that result in differentiating business outcomes.
He is a passionate driver of the digital economy and a dot connector, transforming industries by bringing together a complete ecosystem of government policies, start-ups, technology alliances, research and bright minds. Armughan's passion is fueled by successful digital transformations that harmonize human and machine partnerships in the Fourth Industrial Revolution.
Armughan has delivered award-winning innovative Cloud, Data, Artificial Intelligence, Internet of Things, Mobility and Security solutions aligned to clients' front, middle and back office business functions across North American, European and Asian markets.
He has worked at, and collaborated with, start-ups and large corporations, delivering new and improved customer experiences across financial, manufacturing, retail, telecom, energy, public sector and SME industry verticals.
Before joining KPMG, Armughan served as the Global Senior Vice President & General Manager at Dell Technologies leading their Solutions, Cloud and Alliances business. He previously held executive positions at Hewlett Packard and 3Com, building world-class teams that are powering the Fortune 500 and commercial industries.
Armughan serves on many non-profit boards and is a passionate promoter of girls' STEM education, mental health awareness and refugee resettlement programs.