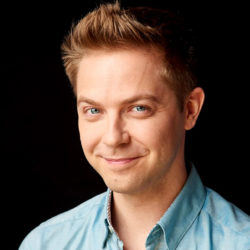 Freelance Video Producer, Media Personality & Host
Good Show Digital
Ajay Fry began his national TV hosting career in 2006 with CRUNCH, YTV's new Saturday morning block of cartoons. After two successful years, Ajay found himself in SPACE… er, or, on SPACE, more appropriately.
For SPACE he co-hosted the beloved, CSA nominated, series InnerSpace, for which he travelled the world covering gaming, film, television, science and tech, comic books, and everything in between, garnering recognition across Canada.
Since returning to Earth in the spring of 2018, Ajay has been live-streaming regularly on Twitch, as well as working with Xbox, Nintendo, Best Buy, The Canadian National Exhibition, and regularly guest co-hosting Heads Up Daily & Squad.