By: Stephanie Porfiris, May 27 2021
---
These start-ups are changing the game 🚀
We are so excited to announce the first cohort of eCommerce North, Canada's first ecommerce accelerator!
---
Beam.city
Being a Cornell-educated rocket scientist wasn't a big enough accomplishment for Zeze Peters.
His academic training taught him to identify and create simple solutions to complicated problems, and he launched Beam.city for one purpose: to revolutionize the overly complex digital advertising industry.
Zeze and his team of overachievers designed Beam.city to act as a marketing automation tool, autonomously publishing ads across all social platforms. Once the ads are released, a customized artificial intelligence algorithm kicks in to optimize targeting.
The company's ultimate goal is to enable preemptive ads on-demand, so companies can target the right people with the right messaging at the right moment.
Although Zeze started Beam.city without a co-founder – an increasingly uncommon move in today's entrepreneurial ecosystem – he has learned the value of looking to others for support. In other words, not relying solely on himself. "Just ask; the worst they can do is say no."
---
Beeja May
The notion of thrifting has undergone a remarkable makeover in the minds of consumers. The art of buying apparel secondhand is now seen as a sustainable alternative to fast fashion and big box stores. And husband-wife duo Simon and Christine are making the most out of this opportunity.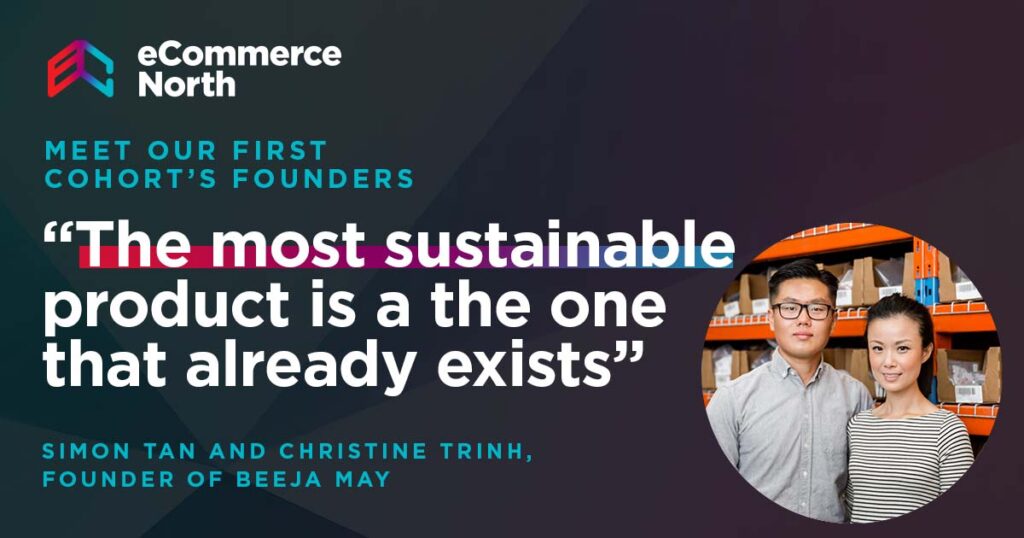 Their startup, Beeja May, allows secondhand shoppers to sift through thousands of products, filtered by age, gender, and brand; and have their orders ship right to their doorstep.
While Simon has always harboured an entrepreneurial streak, Christine was more hesitant to make the leap to full-time founder. The seeds of the idea were planted while she was on maternity leave. And although she did return to work, her attention was partially elsewhere. "I had my dream job, but my heart was with Beeja May."
After a period of soul-searching, and fuelled by their goal of building a more sustainable world, Simon and Christine dedicated themselves to their venture.
While Beeja May has flourished into one of the most popular online secondhand retailers, Simon and Christine are still relentlessly pushing towards a greener future, firmly believing that "the most sustainable product is the one that already exists."
---
Cooks Who Feed
Seema Sanghavi has raised the maxim "do what you love" to the next level.
A self-proclaimed "foodie," she has taken her fondness of cooking to the global stage, founding "Cooks Who Feed" in 2019. The enterprise oversees the ethical production of handcrafted aprons; and, for every apron sold, 100 meals are provided to the hungry.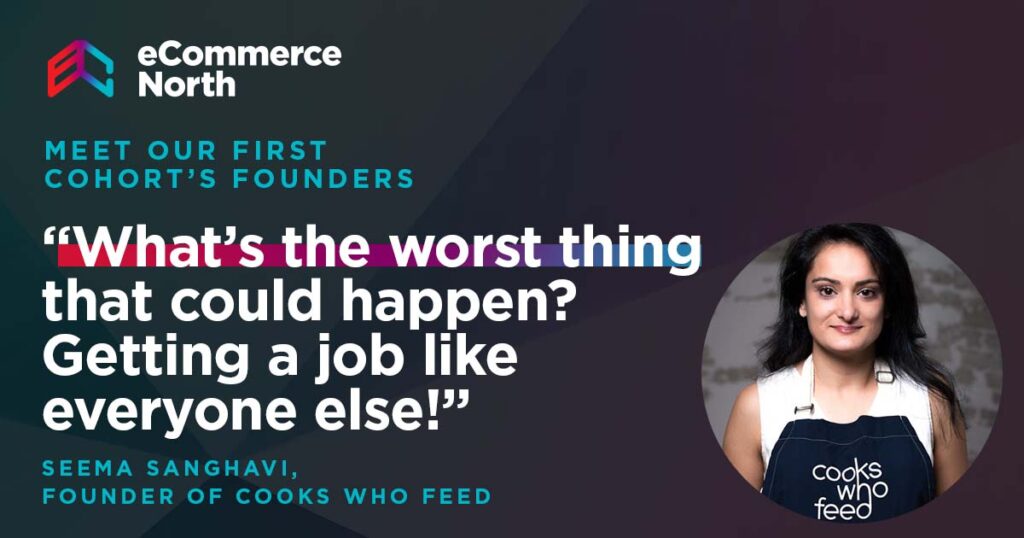 Never having been satisfied with working for someone else, Seema saw the opportunity to launch her own venture on a personal trip to India. It was during this time she met the women that would one day be under her employ, eventually hand-making the aprons that generate the funds to feed thousands of people. For many of these women, this was their first time working a fair-trade job; they had accepted charity their whole lives.
Like all startups Cooks Who Feed runs up against demonstrable risk and uncertainty. But her desire to do good and offer real value to thousands of people helps Seema push through and ignore what she sees as the ultimate worst-case scenario: "What's the worst thing that could happen? Going back and getting a job like everyone else!"
---
DropCommerce
Patrick Kelly is offering transparency in one of the most opaque sectors of the digital world.
DropCommerce is a dropshipping platform, a tool for an industry that only launched in 2006.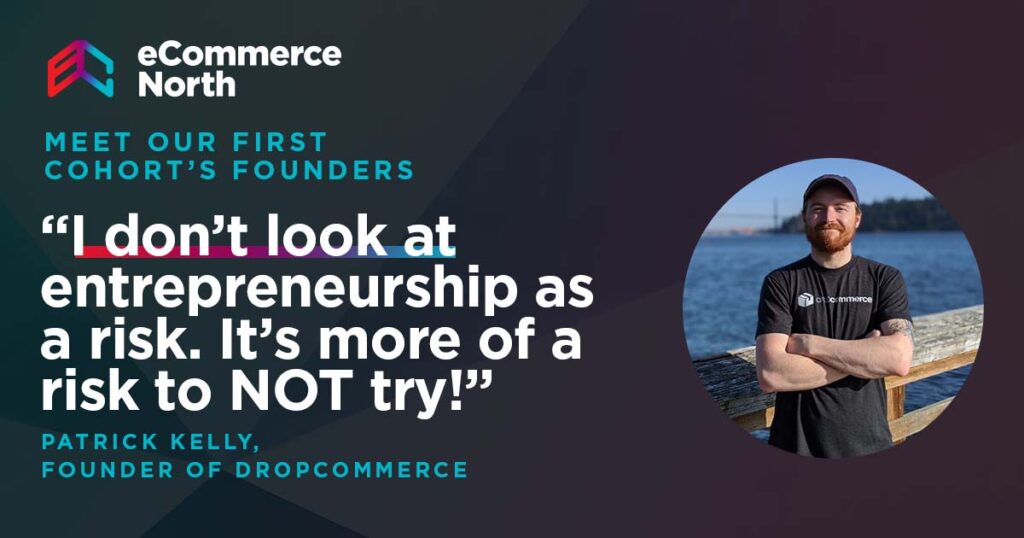 DropCommerce provides a low barrier-to-entry method to sell online; no need to purchase inventory because your suppliers ship directly to your customers while you focus on branding and marketing.
Launched in 2018, Patrick's startup is a beacon of transparency in an increasingly murky and dishonest industry. DropCommerce is essentially a facilitator of trust between drop shippers and suppliers. The company allows drop shippers to filter prospective suppliers and their products by a myriad of values, including "women-owned businesses", "organic", and "vegan".
Patrick has always harboured an entrepreneurial streak, as well as a desire to build something of value. When questioned about the inherent uncertainties accompanying launching a company, he bluntly summed up his philosophy: "I don't look at entrepreneurship as a risk. It's more of a risk to not try."
---
Kabo
The Google query "What should I feed my dog?" returns over half a billion results. What pet parent has time to sort through all that?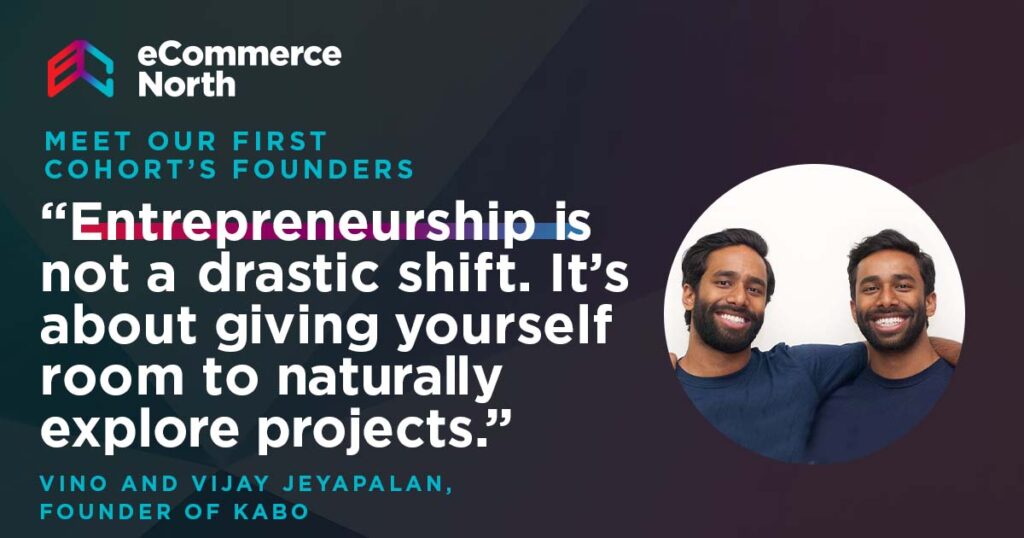 Twin brothers Vino and Vijay Jeyapalan are on a mission to make feeding dogs easy and enjoyable. In 2019, the duo founded Kabo, an online experience created to help owners determine how to feed their dogs based on variables including breed, age, weight, and gender. The startup both produces and delivers food, acting as a one-stop-shop for pet parents and their hungry pups.
Entrepreneurs are typically typecast as risk-taking adrenaline junkies that dive headfirst into the projects they believe in. But Vino and Vijay opted for an alternative path. The brothers spent over a year researching the dog food ecosystem, consulting industry experts and further exploring their ideas. They eased out of their full-time jobs and spent nights and weekends building Kabo. Vino doesn't see entrepreneurship as an all-or-nothing decision. "Let yourself naturally explore those projects, and give yourself room. Eventually, one thing ends up sticking."
---
QuoteMachine
QuoteMachine co-founders JD and Jonathan are humanizing the artificial world of ecommerce.
Launched in 2018, the startup helps retailers navigate the world of selling big-ticket items – goods not purchased on a regular basis, like bicycles, furniture, and home appliances.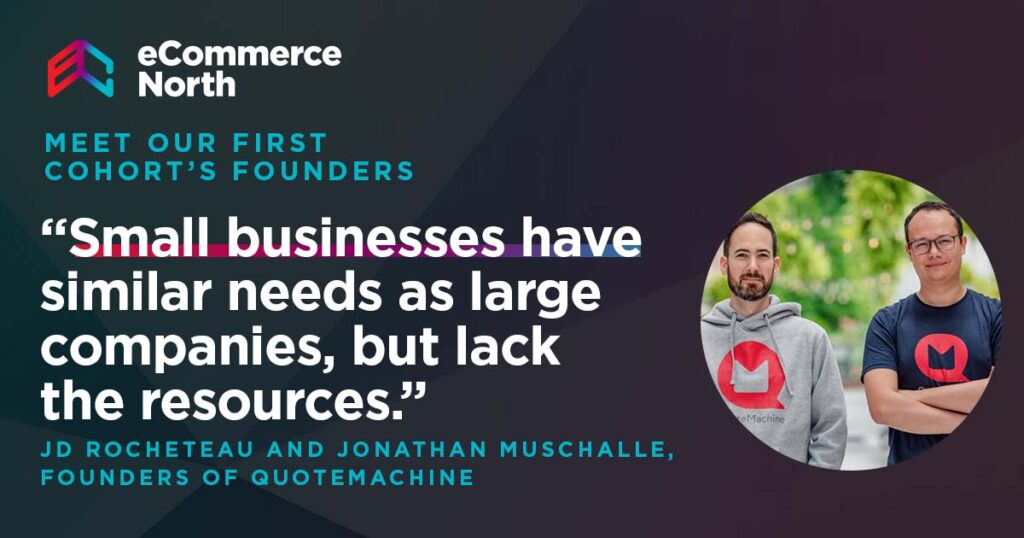 Both JD and Jonathan spent years working in the retail software space and identified many gaps in the current ecosystem. "Small businesses have similar needs as large companies, but lack the resources," JD explained.
The novel processes and ideas implemented by QuoteMachine have resulted in an unprecedented conversion rate of 70%. And merchants haven't withheld any gratitude; QuoteMachine regularly receives messages from grateful store owners who credit the startup with saving their businesses.
The company is revolutionizing the way digital commerce operates, and especially through incredibly challenging times, is creating tremendous value for merchants. QuoteMachine is well on its way to accomplishing its guiding goal: building and selling products that change lives.
---
Satya
Satya may be the only company ever started in a crockpot.
When Patrice Mousseau's daughter developed eczema, she refused to believe steroids were the only available option for her child.
Countless hours of research (and one crockpot experiment later), Patrice had developed a topical anti-inflammatory that cleared her daughter's eczema in two days.
Patrice's homemade product has since grown into Satya, a renowned organic eczema-relief brand with shelf space in Whole Foods, Kroger, and Indigo, among others.
But in telling her story, Patrice couldn't help but emphasize the value of a support system and network. "You cannot start a business without community. The idea of a self-made anything is bogus."
---
Silk & Snow
Mattress manufacturing isn't usually the first thing to spring to mind when you think of Toronto, Canada. But the city has a long and coloured history in the industry (did you know the mattress coil was first invented there?).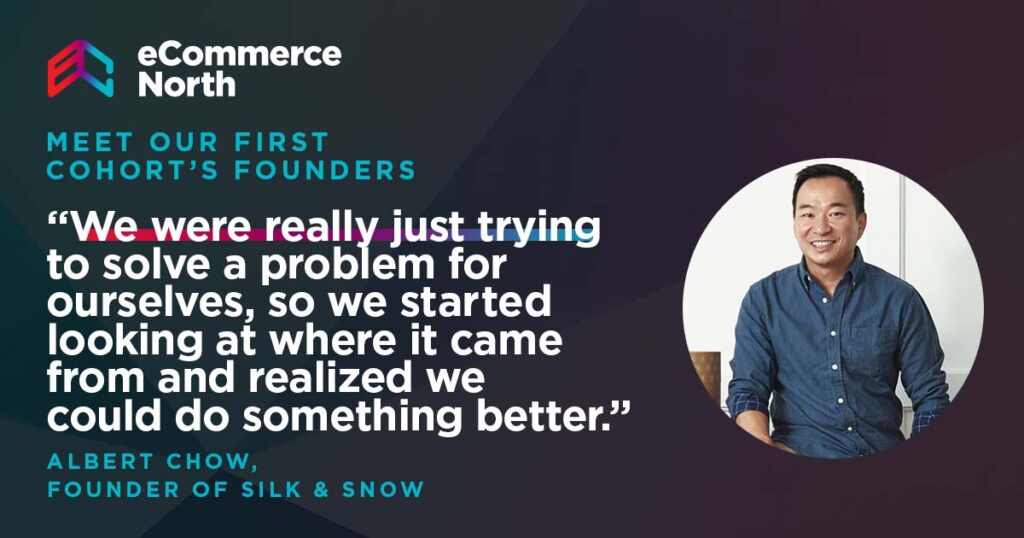 Albert Chow is steering this home-grown industry in a more sustainable direction. Launched in 2017, Silk & Snow not only produces mattresses but has full control over its supply chain. Everything from where the foam is poured to where the textiles are woven is diligently managed.
Albert and his partners began exploring the space in 2016 and quickly noticed gaps in the industry – gaps they knew they could fill. Months of research and one Kickstarter campaign later, Silk & Snow started on its path to becoming the go-to brand for thoughtfully manufactured sleep essentials. He explained, "We were really just trying to solve a problem for ourselves, so we started looking at where it came from and realized we could do something better."
---
Sociavore
Restaurant ownership is a family affair for Thusenth Dhavaloganathan and Amina Gilani.
Thusenth, one-half of the husband-wife co-founder duo, was raised in his family's many; and now runs one of his own with his wife Amina.
Thusenth and Amina quickly noticed the value of an online presence in the restaurant industry but that there was a lack of tools available to cultivate that presence. In 2018, the pair launched Sociavore, an all-in-one platform for restaurateurs looking to boost their digital image.
"We are focused on building something that offers as much value as possible," Amina explained. And the results speak for themselves. Sociavore has grown 100% organically, with Amina And Thusenth never having invested in outbound marketing. They are gaining new customers every single day.
The duo is focused on empowering restaurants, and providing owners with the tools to succeed in today's ecosystem. Who better to build such a tool than industry veterans?
---
Ugly Dukling
Melissa Davis is no stranger to the fashion industry.
Having spent her teenage years aggressively teaching herself the ins and outs of the game, her current position as head of Ugly Dukling, an influential online boutique, was seemingly an inevitability.
The brand, which Melissa started in 2010, originated as a sneaker boutique. Her vast network of industry influencers attracted partnerships with titans including Nike and Adidas.
But Melissa was itching to create a titan of her own, prompting her to ask, "Why am I helping Nike and Adidas make millions of dollars when I can use these influencers to help myself?"
She decided to focus her resources – her network, experience, and grit – on herself and has turned Ugly Dukling into one of the digital world's most prominent online boutiques.
The company has gone on to collaborate with some of today's most iconic brands, including Barbie, DC Comics, and Hello Kitty, and is working towards its goal of becoming a globally recognized name.
When reflecting on her own leap of faith and dedication to her entrepreneurial vision, Melissa eloquently summed up her perspective: "What's the worst thing that can happen if you don't follow your dreams?"
---
We can't wait to see the changes these companies create 🙌